Baby on the Go:The Best 5 Baby Carriers to Buy in 2023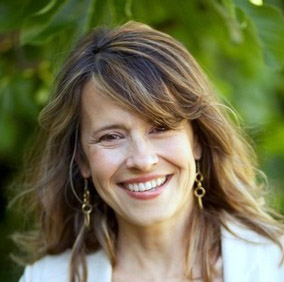 Kelly Brook, Contributor
Updated: Feb 8th, 2023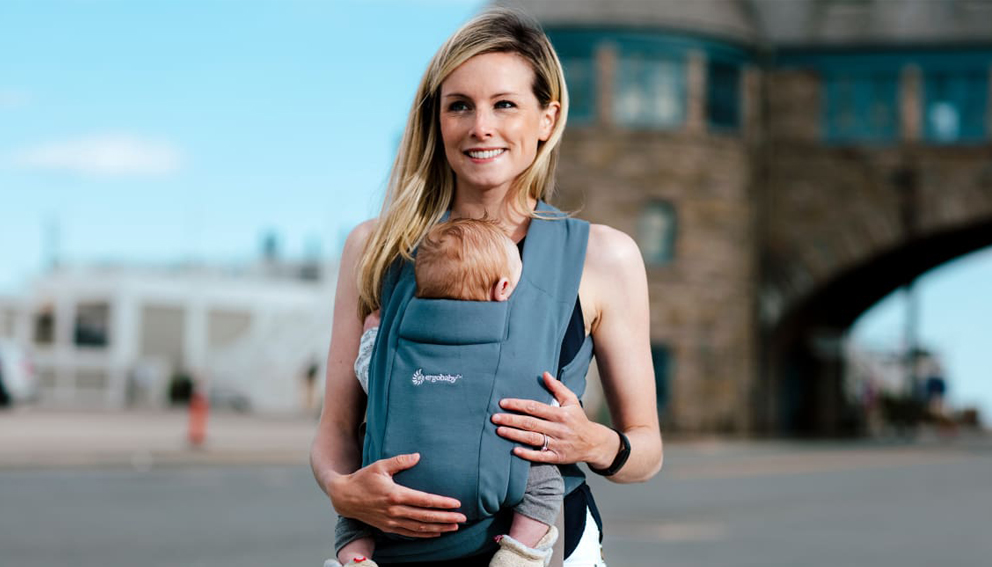 Carrying your child in your arms makes up one of the sweetest parenting memories. But here's a small problem – carrying them without any assistance can feel exhausting especially if you have to do it for an extended period of time. If you're a parent on the go, the thought of carrying baby bags, and your baby can be daunting. Having a tool or a product to offer support as you carry your baby will definitely come in handy.
If you're a parent and you're looking for reliable, and longer-lasting baby carriers, we got you. In this review, we're featuring the top four baby carriers to buy in 2023.
How We Decided
There are all sorts of baby carriers in the market, but us parents should not just go for any cute-looking carrier. As parents ourselves, we know from endless research that some carriers are better than most when it comes to ergonomics and comfort. To help other parents get the right choice, we decided to go into this little project of finding the most trusted and recommended carriers out there.
Based on the recommendations from parents, child care experts, and pediatricians, here are some factors to consider when choosing a carrier for your growing child.
Comfort
The best baby carriers are those that prioritize delivering comfort to you and your baby. Carriers that aren't designed well can put intense strain on your baby's bottom and legs, and your back as well.
Choose a carrier that molds the legs in an "M" position so your baby can enjoy ultimate comfort. Go for carriers with padded straps that can help take the strain off your shoulders.
Ergonomics and Structure
There are baby carriers that sometimes force you to make a slouching position – one that could definitely hurt your back in the long run. When picking out the carrier you can trust your baby in, choose one with an ergonomic design and structure. Some points to consider – the baby's position when being carried, where the weight is concentrated, and how the carrier alleviates the strain on the back and hips.
Durability
Carriers are meant to last for years. The best ones can be passed through one baby to another. Memories are made with carriers – make sure to choose one that's really meant to last for a long time!
Out of all the carriers we have reviewed, these are the top four items that stood out from the rest!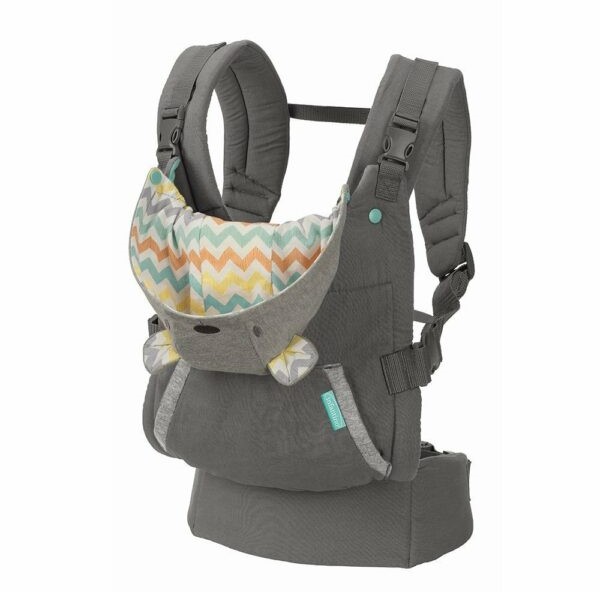 During the review, we found out that BubbaBear bear-themed baby carrier is a great pick for parents who are looking for comfort, convenience, and style.
We love how whether you're carrying your little one in front or back, this carrier provides a comfortable and secure fit for both you and your baby.
The carrier is designed for infants and toddlers between 12-40 lbs which is a smart feature if you're looking into stretching the value of your carrier.
The carrier features adjustable shoulder straps and a wide waist strap and we love how it gives ergonomic support and stability.
The no-fall technology ensures that your baby stays safe and secure while in the carrier, and we are all about giving you peace of mind during your adventures together. Additionally, the carrier has a front pocket where you can store items, freeing up your hands for other tasks.
The removable character hood provides extra support and comfort for your little one, especially when they're sleeping. And, when it's time to clean, the carrier is easy to clean and machine-wash friendly, making it a low-maintenance choice for busy parents.
Overall, the BubbaBear bear-themed baby carrier is a versatile, comfortable, and stylish choice for parents who want the best for their little ones. With its ergonomic design, multiple carrying options, and added features, this carrier is sure to be a staple in your family's adventures for years to come.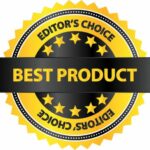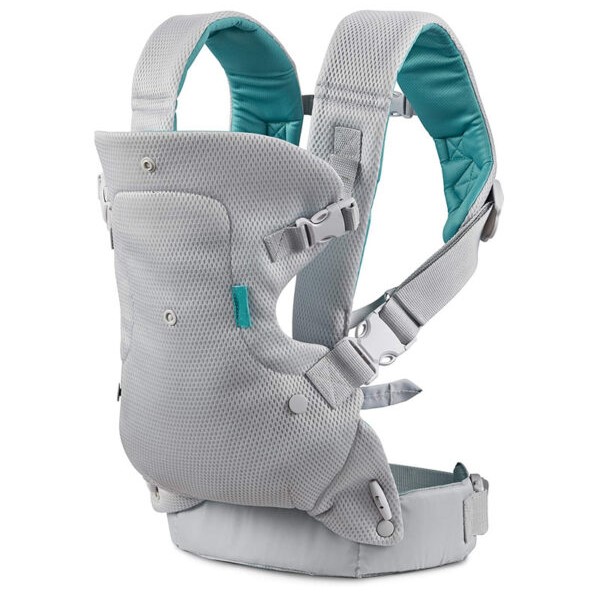 We are all about the InfaSlid Light and Airy Convertible Carrier's features that make it ideal for any parent who wants to keep their little one close while on-the-go.
The breathable design keeps both baby and parent cool and comfortable, even during extended periods of wear. A great feature if you're going for long trips.
The carrier supports four interchangeable positions, including front-facing, back-facing, hip-carrying, and chest-carrying, making it a versatile choice for a growing baby. The lumbar and head support provide added comfort and security which makes sure that the neck and the head are properly supported.
The adjustable waist belt is a game-changer, providing extra support and stability while distributing the weight evenly across your hips. The ergonomic seat ensures that your baby is seated in a natural and comfortable position which we love because it reduces the risk of discomfort or strain.
The plush straps make this carrier a comfortable choice, even during extended periods of wear. The straps are adjustable, allowing you to customize the fit for maximum comfort. The carrier is easy to clean and machine-wash friendly, making it a low-maintenance choice for busy parents.
Whether you're running errands, taking a walk, or simply enjoying some quality time with your baby, this carrier is designed to keep both you and your little one comfortable and happy.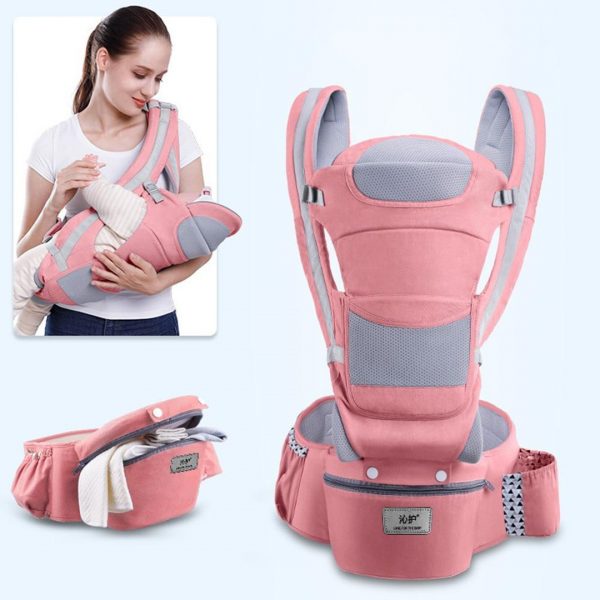 Is your child prone to outgrowing carriers? Do sling carriers don't work for your super active tot anymore? We feel you – this is why we included BundleBee on this list.
The BundleBee is a flexible, ultra-comfortable baby carrier that can be used for up to 15 different positions. Yes, 15! Isn't that amazing? We just know this is such a deal especially for parents who want to buy carriers that can be used from infanthood to adulthood.
This carrier is made to last – it's made from high quality fabric that can carry up to 50 pounds of weight. Your last worry would be losing the quality of the carrier fast.
The BundleBee comes with an ergonomic design that will make the baby carrier experience comfortable and easy for both mom and baby!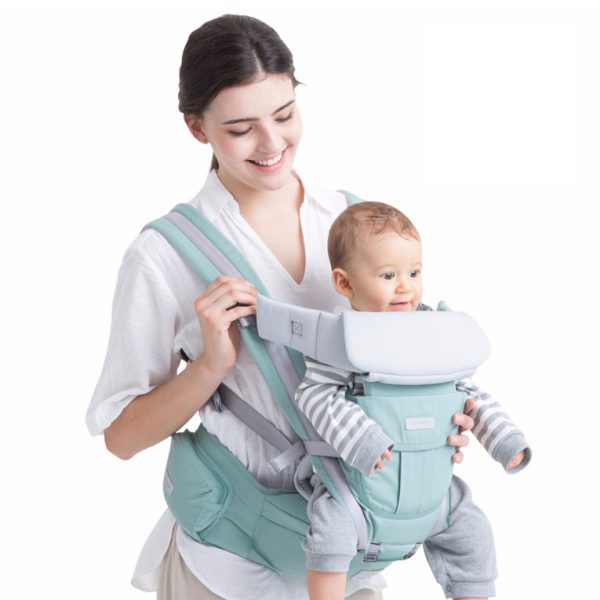 Is your child more of an adventurous type? Do they easily get bored when they stay in one position for a long time? We all understand this struggle. This is why when reviewing the baby carriers, we fell so in love with the TotBag baby carrier.
The TotBag allows you to achieve 12 different carrying positions with this impressive and ergonomic carrier. You can carry your baby sideways, forward-facing, or with the back carry position.
This carrier "grows" with your baby. Some positions can be uncomfortable for some babies – this carrier allows you to get creative with the way you carry your child so you can be sure your little tyke is 100% comfortable.
You won't have to worry about back and hip aches from all the positions you need to do. The TotBag comes with an efficient lumbar support so you can carry your child for a long time without worrying about experiencing aching back and hips.
The TotBag also comes with a mesh material to provide a more breathable and comfortable experience for you and your little one!
You and your spouse will enjoy carrying your baby everywhere. Bringing your little ones outdoors will be such a breeze, thanks to the TotBag!
Do you get that look of discomfort when you try to carry your child in a certain way? Do you wish there's a carrier that actually "grows" with your child? If you're looking for a carrier that you can use up until the toddler years, the ErgoPack is a great product.
For us, the main feature of the ErgoPack is its adjustable function. You can use this carrier in 4 different ways – there's the cradle style, the sit-down-in-front style, the classic inward position, and the back carry option.
Cradle style is perfect for infants and newborns, while the inward position is great for babies ages 4 months and up. If your child is starting to explore more, you can opt for the carrier hip seat which allows your child to see what's in front of her. If your kid is starting to go heavy, you can always opt for the back carry option!
Comfort is the standout feature of the ErgoPack. The seat, and the straps are padded with high-quality cushion. The hip strap also comes with an advanced comfort padding technology that eliminates the stress off your hips. Even if you're carrying your child for a long time, you won't feel discomfort.
If you're in the hunt for a carrier that "grows" with your adventurous, and quirky little one, the ErgoPack is a great pick.
Babies will not stop us from getting those goals and finishing those tasks. Baby carriers provide us a hand-free experience that will let us finish our most important tasks while staying close to our precious, little babies. Snuggle your baby while you check off items off your list – this is the deal offered by baby carriers – a deal worth taking always!