Full Belly Support:The Best 4 Belly Bands to Buy in 2022 For Better Pregnancy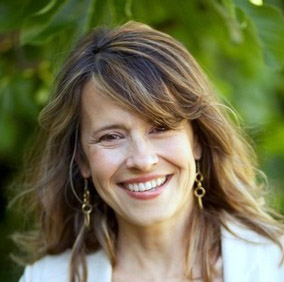 Kelly Brook, Contributor
Updated: Mar 8th, 2022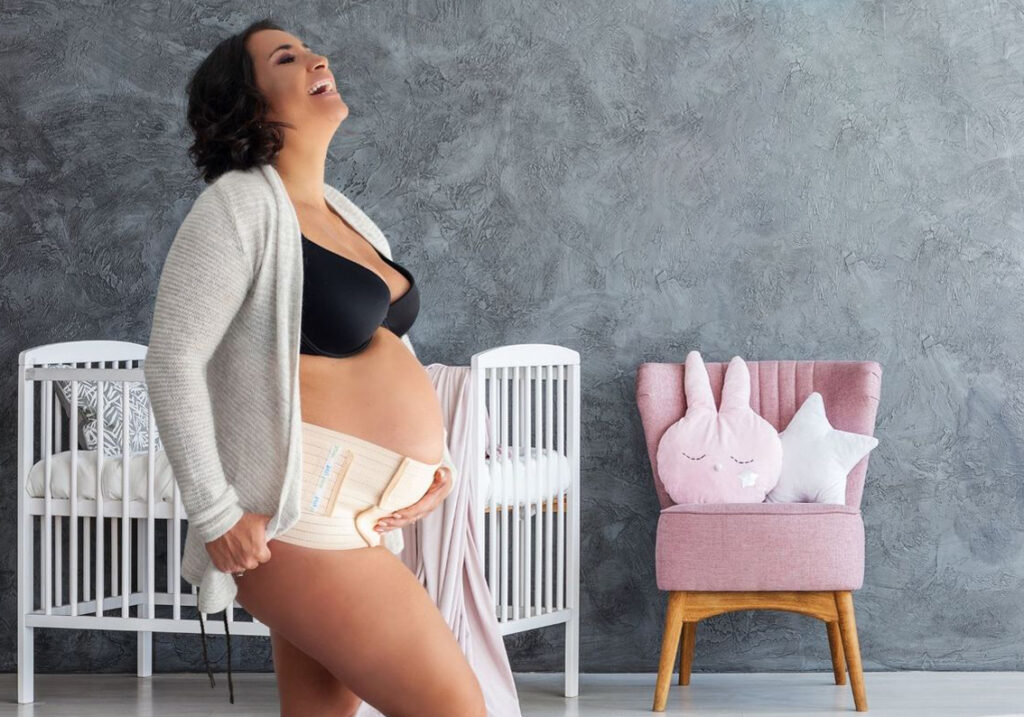 Pregnancy is such an exciting experience. Welcoming a little baby is always an anticipated event. However, pregnancy does not come in a bed of roses. In fact, most women complain of different aches and pains associated with pregnancy. As the baby grows, so does the muscle strain in a mom's joints and muscles. If you're here because you're having a painful pregnancy, or if you know someone who needs additional support for their growing belly, you've come to the right place.
In this review, we're featuring the top 4 best belly bands for a better, more comfortable pregnancy experience.
How We Decided
Our team is composed of pregnant mommas who are also keen on finding the best pregnancy belly bands out there. You're assured that whatever product we tested here has been tested with the approval of preggo moms!
To make sure we've narrowed down our options well, we asked the recommendations of OB-GYNs and doulas. Here's a quick criteria that we used in choosing the best pregnancy support bands in 2022.
Support
Ultimately, it all boils down to this: is the belly band really providing the relief from muscle and joint pain caused by the growing belly? Since belly support is the main reason for getting a belly band, choosing one that can deliver optimum support is necessary.
Comfort
The pregnancy bump is already a hard thing to carry around. You just can't afford to get another product that will add to the pregnant woman's discomfort. When choosing a belly band, opt for one that has a breathable, flexible material.
Durability
Find a product that can support your growing bump in all your pregnancy's duration. The last thing you'd want is for your belly bands to snap into two, leaving you with a very heavy to carry on your own.
Out of all the products we've reviewed, here are the top 4 belly bands for pregnancy that stood out the most.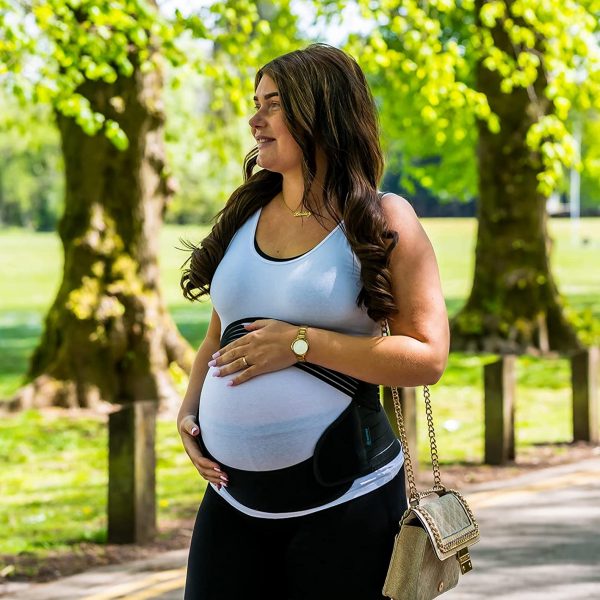 The intense pressure comes in at the third trimester. When your belly drops, the pressure just goes up. Your hip and back screams for comfort the most. In our review, the band that alleviated these pains the most is the HeartyLift pregnancy support belt.
This band is backed by research. In 2017, medical professionals from Boston University developed a solution to provide comfort for moms who are already in the heavy stage of pregnancy.
This belly band and belt comes with two support bands to provide assistance to the belly, and to the back.
It comes with 4 settings so you can utilize this band for the entire pregnancy journey. Even those who are still in their second trimester can use this.
The HeartyLift comes with a special velcro that doesn't stick to fabric to allow a soft and conforming use. This belly support band won't make you feel like you're bulky from all the bands hanging around your tummy!
This is the perfect gift for working moms, moms who love to workout, and moms on the go!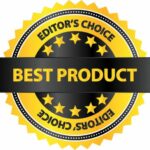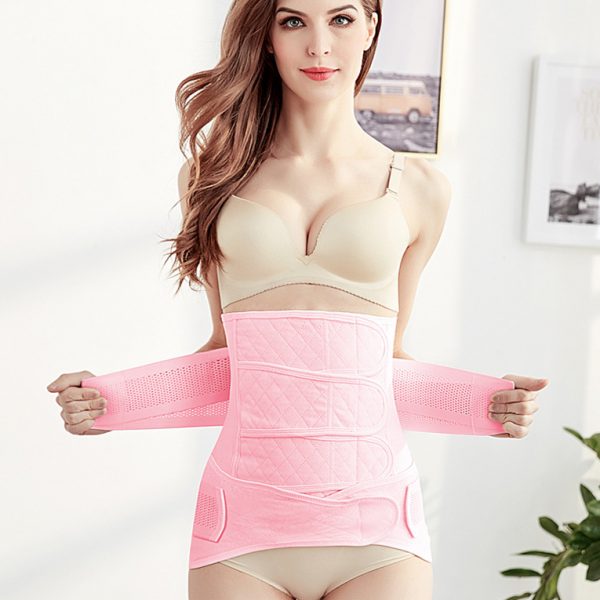 The sagging skin and belly that comes right after pregnancy are two things you would just want to deal with as soon as possible.
PreGiggles is a post-pregnancy essential. Known as the post-pregnancy belly band, this band-slash-wrap helps to tuck in and support the belly that recently gave birth. If you're not a big fan of the pregnancy pouch, or if you want to feel like you're receiving added support to your muscles (especially when you've just given a C-Section), the PreGiggles is a topnotch option.
What we like about PreGiggles is that it does not come with just one adjustable band – it comes with multiple bands that you can adjust according to your preference. With this feature, you can fit the band down to a T.
The PreGiggles is breathable and 100% comfortable, thanks to its light, meshy material.
We love how the PreGiggles is multipurpose. There's a setting special to CS-moms, another for dredging fat, and another for aligning internal organs.
If you want to feel "back" again after giving birth, this product is one of the things you can add to your childbirth must-haves.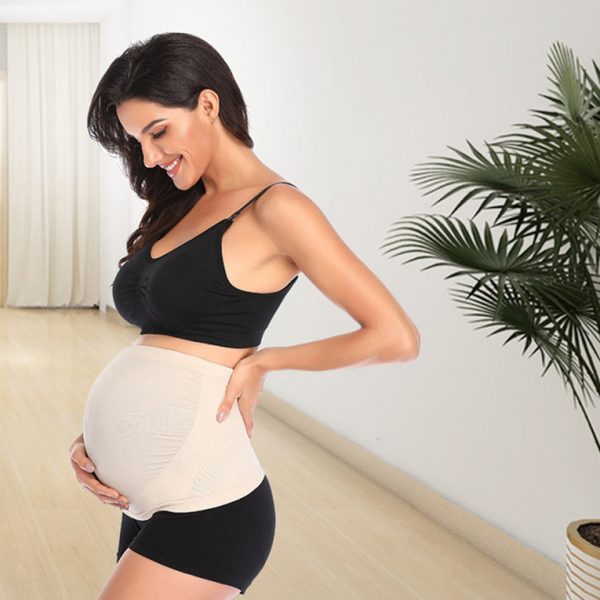 Are you all about giving that overall support to your growing bump? Do you want to feel like your bump is totally supported and protected? Our top recommendation is the Pregnant's Choice.
This impressive belly bump support belt comes with an overall support feature. This band does not just support one spot – it engulfs your belly with a support band to help you alleviate pressure all around your waist and belly area.
You won't have to worry about feeling sweaty and miserable while wearing this belly band. This product is made with comfortable, moisture-wicking material that will make you feel light and fresh.
After we wore the Pregnant's Choice, we noticed that it eliminates back and hip pain associated with walking and exerting effort while dealing with a big bump. The weight and pressure is well distributed, thanks to the Pregnant's Choice.
If you or a loved one is in much pain because of the pressure, Pregnant's Choice can be the answer to their concerns.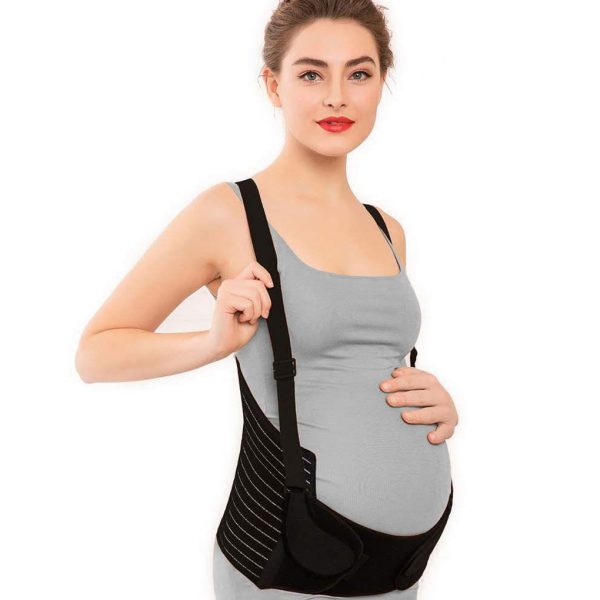 Is your belly already too heavy? Are you already feeling the discomfort that comes with the third trimester? Save your back from feeling the intense pain of a heavy belly with the help of the Mommiza pregnancy belly band.
The Mommiza comes with an impressive design. It includes flexible bands that "hug" the bump, and a strap that extends up to the shoulders to give your bump a "lift." This added support to your growing belly can alleviate pelvic pressure, hip pain, and back discomfort.
With its premium and breathable material, the Mommiza can effectively eliminate pain, correct placenta posture, and support the belly and back without any discomfort.
The elastic material is lightweight and very flexible – you won't have to don ultra bulky support belts that can make you feel heavy and uncomfortable.
Mommiza is also useful even after childbirth. This belly band can be used to shrink the belly, and bring back saggy skin in place.
Pregnancy support bands may look simple, but their benefits are extensive! Don't let the pains and aches of your pregnancy journey stop you from truly enjoying the experience. Get relief from frustrating aches – our trusted belly bands can help you achieve that pregnancy comfort without the fuss.