Best 4 Candy Floss Machines to Satisfy Your Sweet Tooth at Home This 2022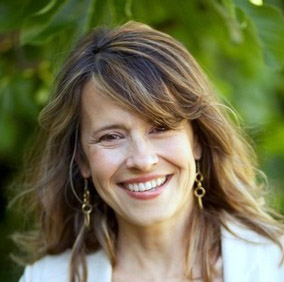 Kelly Brook, Contributor
Updated: Mar 8th, 2022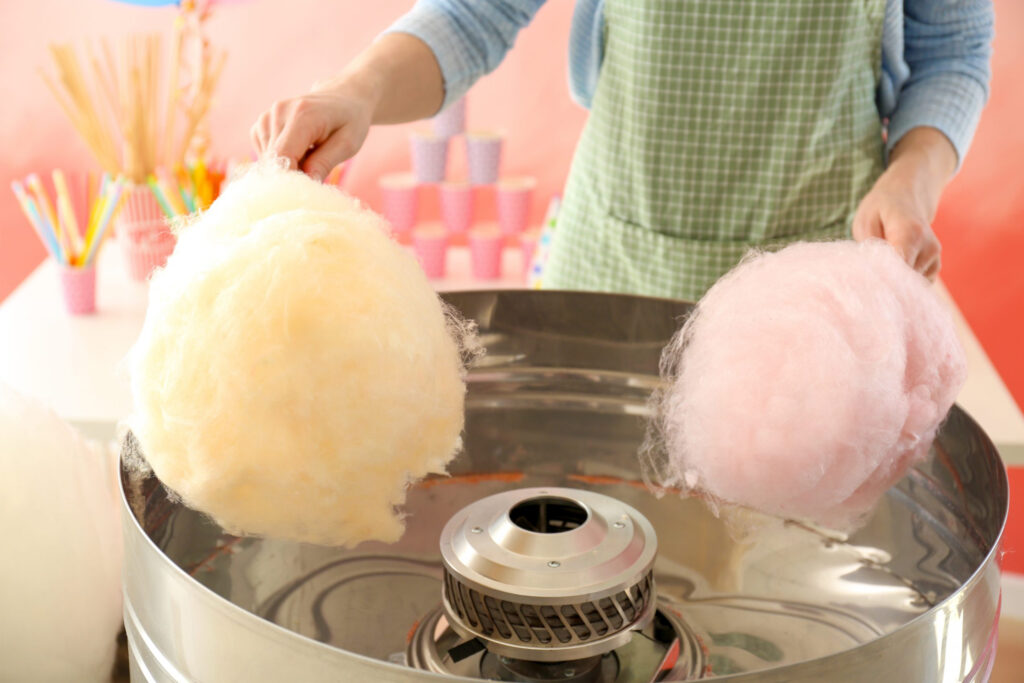 Who doesn't like cotton candy? This melt-in-your-mouth, colorful sweet delights are just the best in the world. That's why every time we're at a theme park, carnival, or fairgrounds, the first thing that pops in our mind is, "where's the cotton candy?"
Nowadays, it's much easier to have these sweet treats at our disposal—all thanks to portable Candy Floss Machines that allow you to DIY your favorite cotton candy. Yes, you don't have to wish to be at your local fairgrounds just to taste this sweet surprise; you can now do it at home anytime!
So if you're ready to reminisce the good ol' memories, or maybe you're planning the sweetest birthday theme for your little kids, we have prepared a review of the Best Candy Floss Machine to help you choose the PERFECT cotton candy maker for you. Without further ado, here's our Top 4 Best Candy Floss Machine for 2022.
Read along.
Our Criteria in Choosing the Best Portable Candy Floss Machines
Before we head over to naming our 4 Best Picks for Cotton Candy Machine this 2022, let's get you familiarized with the criteria we used in reviewing and testing all products.
NOTE: Our review board comprises different people from different fields to give you various opinions and suggestions to help you choose the best product.
Material and Design
The first thing to remember in understanding how cotton candy machines work is they use high heat to caramelize the sugar and create those sugary floss. That said, a suitable Candy Floss Machine must be made of stainless steel or BPA-free plastic to ensure they don't melt at high temperatures or leech toxins into the candy.
Power
When it comes to machines, power is essential. Or, in this case, to provide you with the best tasting and nice-looking cotton candy. That's because the power of the cotton candy maker you have influences its performance. Just imagine this. If you have a cotton candy machine with 450W to 500W, it could take approximately 10 minutes to heat up and about 5 minutes to produce those sugary floss. Meanwhile, a high-powered, 1000W cotton candy machine could heat up rapidly, giving you the ability to make large batches when used.
NOTE: In this review, we focused on reviewing products categorized as "portable" or "at-home machines."
Tank Size
The Candy Floss Machine's tank size is a crucial deciding factor because it determines the amount it could make. This criteria also goes hand-in-hand with your purpose in buying a cotton candy maker. For example, if you're looking for a machine that produces that same quantity as those at your local fairgrounds, you have to opt for bigger tank sizes. Meanwhile, if your purpose is for something intimate like a family gathering or birthday party, then a smaller-sized machine will do just fine.
Versatility
A good Candy Floss Machine comes with essential features that ensure top-notch cotton candies to share and a little versatility to accommodate varying taste buds. Some prefer sugarless sweets, regular soft floss, and so on. With such, having a Candy Floss Machine that delivers a variety of choices guarantees everyone's satisfaction.
Ease of Use
Of course, all these fantastic features and designs are a waste if the machine is difficult to use. You have to remember that you're "not" a professional cotton candy maker, so having an easy-to-operate device saves you from all the stress and frustration.
Now that you know the criteria we used to determine our Best Candy Floss Machines this 2022, it's time to see what we have prepared for you to choose from.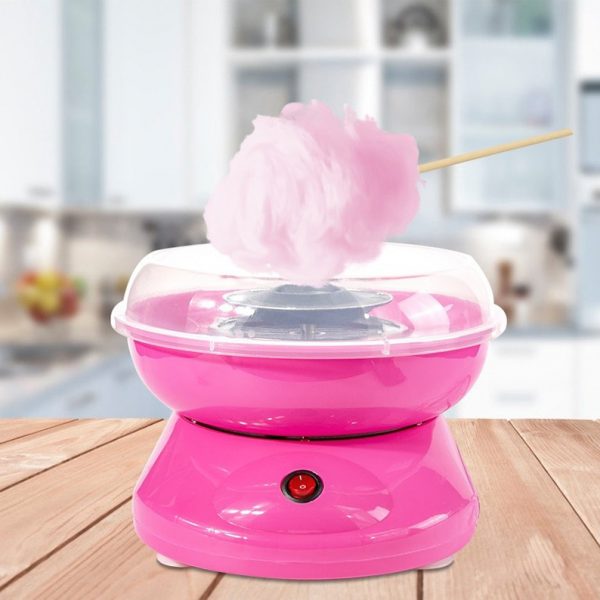 What we love about the SugaryPop is its appeal to a wide range of consumers. Regardless if you intend to use this cotton candy maker for a birthday party theme, a small family gathering, or an intimate event for adults, the SugaryPop will deliver the best-tasting cotton candy ever. Its modern design could make your kitchen decor pop more, and its powerful yet lightweight structure provides excellent quality cotton candy in just a matter of minutes.
Also, you will appreciate the safety and quality features added to the machine. First is the anti-splash pan that rolls along with the candymaker to prevent unwanted accidents. Next, there's a sugar boiling intel that evenly caramelizes sugar. And lastly (and probably the most amazing of them all) is the anti-hot function and strong silicone suction pads that protect and ensure the machine's longevity and balance while being used. For us, its value in a lesser price!
In a Glance:
Power: 500W

Material: Food-grade

Size: 260mm x 180mm

Versatility: Smooth running, hard sugar, granulated sugar, and all kinds of hard fruit candy

Easy of Use: Single-button operation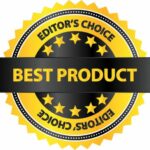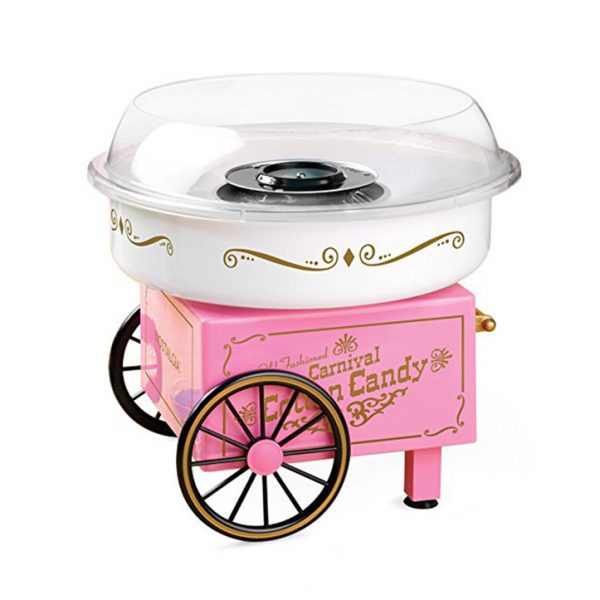 If you like a little bit of nostalgia in your Candy Floss Machine, then the SweetVin is the PERFECT choice for you. The design of the SweetVin just reminds you of the lovely memories you had at your local fairgrounds. Of course, this cotton candy maker isn't just all about the design; it also delivers one of the best cotton candies we've tried. Not to mention its excellent power that could turn one spoonful of your favorite cotton candy flavor into a big and fluffy sweet treat.
One of the things to look forward to with SweetVin is its clear rim guard that serves as a protective barrier and a gathering assistant. This rim is angled in a way that it's safer and easier for you to pull off cotton candy in a stick or cone for everyone's satisfaction. Like other best cotton candy machines, the SweetVin also comes with stability features like a silicone suction pad, anti-hot function, and stainless steel sugar boiler.
In a Glance:
Power: Not mentioned, but powerful enough to produce a suitable amount of cotton candy in under 5 minutes.

Material: Stainless steel and BPA-free plastic

Size: 30 x 28 cm / 11.8 x 11.02 in

Versatility: Excellent with all types of sugar

Ease of Use: Single-button operation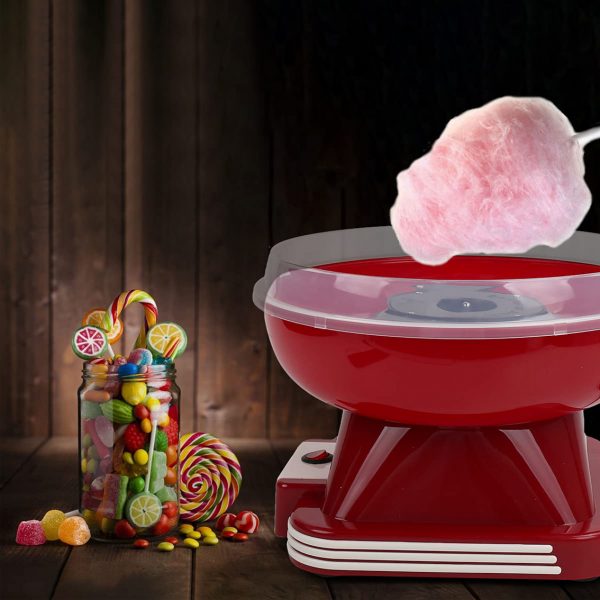 The Snackoro is already a household name when it comes to portable and at-home cotton candy making. It's been used in different sweet birthday party themes, events, and even in school fairs. The trust in this product is due to its top-notch quality, easy-to-use design, and powerful machine that produces cotton candies in a lesser amount of time. And for us, this is something commendable.
What we love about the Snackoro is how straightforward it is to use. You can even create your own sugary concoctions to satisfy everyone's sweet tooth. Just as the name suggests, the Snackoro is a complete cotton candy kit you can bring almost anywhere. Plus, it's effortless to clean—all thanks to its Teflon material that ensures a non-stick surface.
In a Glance:
Power: Creates cotton candy in under 5 minutes without preheating, heightening, or enlarging the sugar silo for fast silk output.

Material: Stainless steel, BPA-free plastic rim

Versatility: Granulated sugar, colored sugar, and hard candy. It is even possible to make marshmallows.

Ease of Use: Single-use operation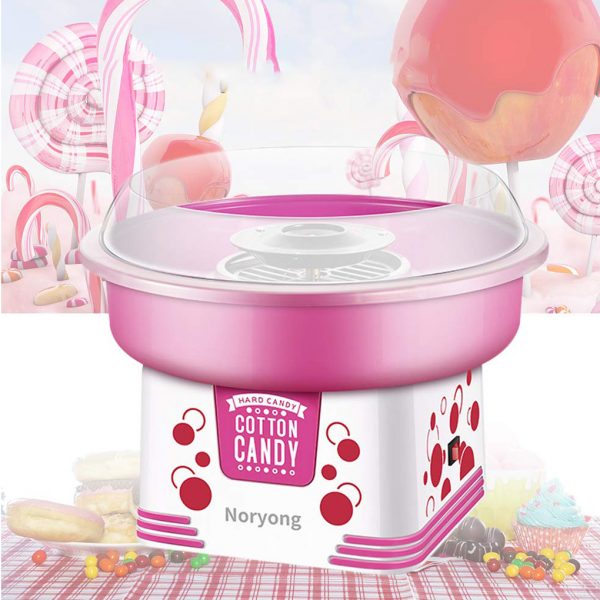 If your purpose of having a Candy Floss Machine is for a small, intimate family gathering or birthday party, then the Kinkoto Mini Candy Floss Machine is the PERFECT choice for you. It may be small in size, but it produces quality floss similar to those higher-end machines. That's why we name this product our top choice for small-sized usage.
The Kinkoto Mini Candy Floss Machine's design is one of those products you'll be proud to sport with friends and family at a dinner party. Its cutesy design built makes all the kids jump for joy just by the sight of it. Of course, it also comes with top-notch integrations that make this machine a suitable cotton candy maker.
First, is the machine's built from efficient, premium-grade materials that deliver the safest and best-tasting cotton candy flavors. Yes, even kids can play around with the Kinkoto due to its safety features. It also comes with an enlarged bowl and stable motor that makes DIY-ing a breeze. And honestly, the Kinkoto is just one of those pieces of equipment that make you reminisce the good times and forge unforgettable new memories for your kids through fun-filled cotton candy making.
In a Glance:
Power: 500W

Material: Food-grade PP material and stainless steel

Versatility: All types of sugar

Size: Large enough to produce cotton candies in under 5 minutes

Ease of Use: Single-button operation, comes with all-steel protective net cover
When it comes to choosing the Best Candy Floss Machine, it all boils down to knowing what your purpose is for. Is it for a small, intimate party, or is it for a big event that requires a heavy-duty machine? Because through this, you'll understand precisely what type of machine is suitable for your needs. However, if the goal is to satisfy your family's sweet tooth or create unforgettable memories at home, these portable and at-home cotton candy makers we have highlighted will deliver. We guarantee that these products will serve their purpose and allow you to go wild with your imagination in creating different flavors on your own.