Best Kife Sharpeners to Buy in 2022:According to Reviews and Tests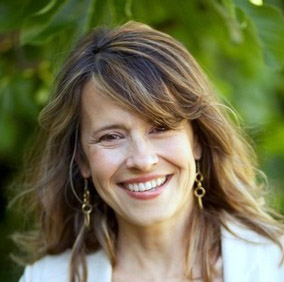 Kelly Brook, Contributor
Updated: Mar 8th, 2022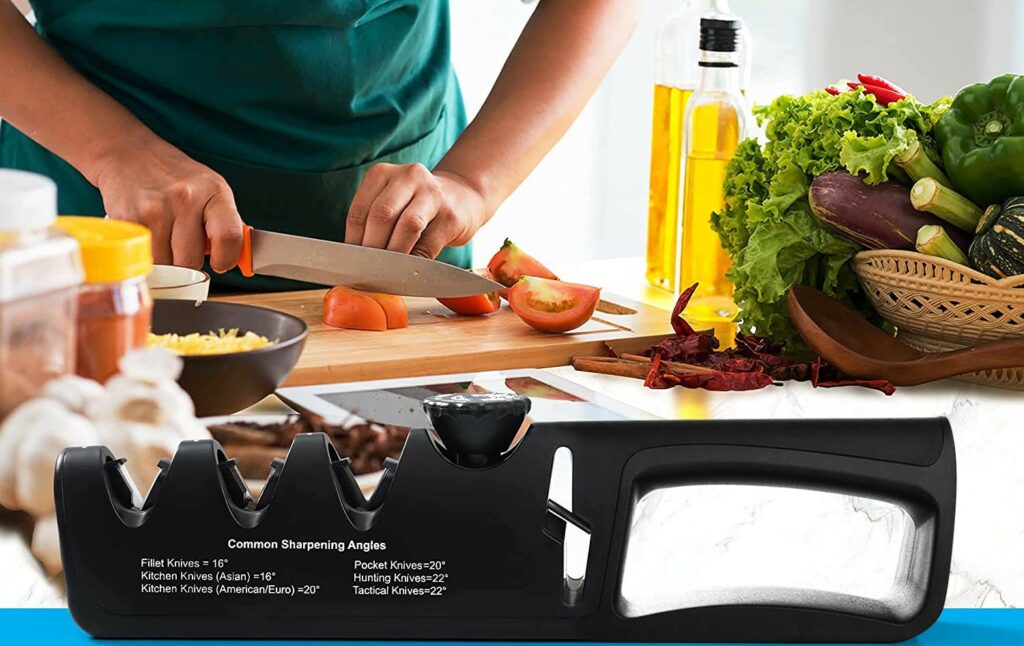 Is your knife's performance already making you question its quality? Are you no longer pleased with the way it cuts through fruits, veggies, and meat? Here's the golden question of all – when was the last time you used knife sharpeners for your sharpies in the kitchen?
Experts suggest that if you are cooking daily, sharpening your knife twice in one month can significantly increase its quality. Knife sharpeners can truly spare us from splurging on new knives by redeeming our old, still-useful ones!
If you're here because you are looking for the most-trusted knife sharpeners in the market, you have come to the right place. In this review, we are featuring the top 4 best sharpeners to buy in 2022 to bring the quality of your knives back!
What to Look for in a Knife Sharpener
Knife sharpeners are everywhere. Through the years, we've seen an enormous amount of knife sharpeners launched in the market. You probably had one – but it might have disappointed you. We had those moments too when our expectation about a certain product wasn't met. To ensure that we recommend the best options here, we consulted with chefs, cooks, and food entrepreneurs for the knife sharpeners they approve.
Out of all their recommendations, we were able to glean a quick guide on what to look for when deciding on the knife sharpeners you will be getting.
Sharpening Quality
After a run through the sharpener, we expect our knives to work as if they are good as new. To spare yourself from disappointment – and from spending bucks on something that won't work as good – make sure to check on the sharpening quality. Most knife sharpeners come with an improved design meant to sharpen blades efficiently.
Speed
If you're ready to transition from sharpening stones to professional knife sharpeners, speed is a key consideration. Since using sharpening stones can take us minutes to finish, opt for something that can significantly cut the sharpening time.
Options
Not all knives are created equal – your knife sharpener of choice should also consider that. If you use multiple knives for cooking, choose a sharpener that can cater to your knife essentials.
Multifunctionality
Who doesn't want to give a bang to their buck? Fortunately, with knife sharpeners that can sharpen other items like scissors and cutters, you can have your money's worth.
Out of all the knife sharpeners we reviewed, here are the top 4 products that stood out.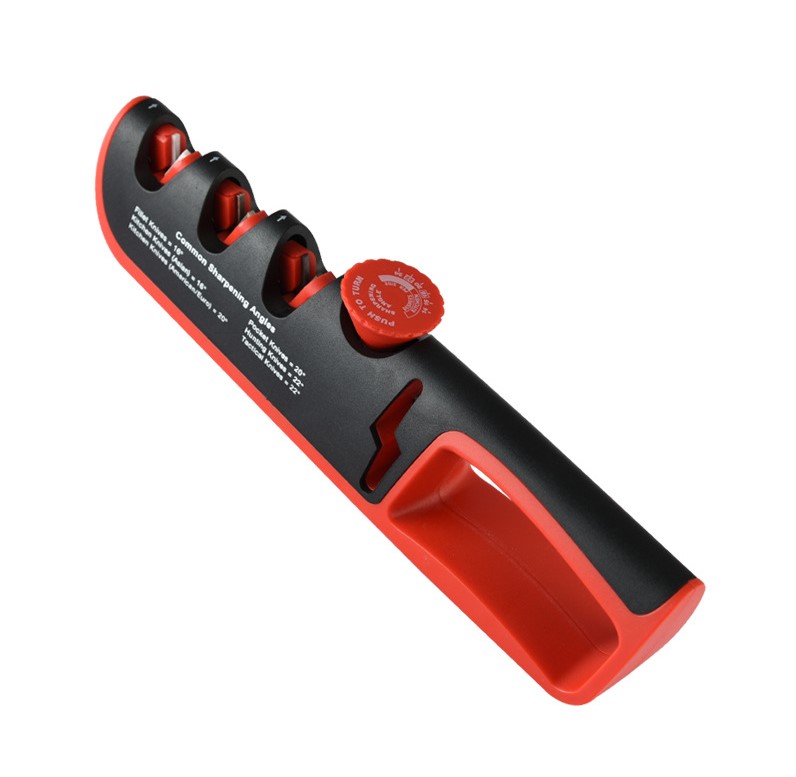 Main Feature: Four Sharpening Slots for Multiple Use
Are you looking for a sharpening tool that will give you your money's worth? Are you looking into sharpening not only your knives but your scissors and razors as well? After we reviewed a lot of products, we've come to the conclusion that when it comes to multifunctionality, our top recommendation is DuoDrix.
The DuoDrix knife sharpener is a compact but heavy duty device that's perfect for home and outdoor use. The impressive design makes it easy to store the DuoDrix in drawers, and camping bags! No won't have to worry about space and storage issues.
What we love most about the DuoDrix is its 4-in-1 feature. In this one tool, you get a slot for scissors and razors, a slot for dull metal knives, another for classic ceramic knives, and one slot for sharpening the edges of all types of knives!
The award-winning design ensures you that you won't have to re-do the sharpening process all over again. The sharpness delivered by the DuoDrix can make you feel like you have a new knife. With just one tool, you can bring the quality of all your old, dull knives back to life.
This knife sharpener is perfect for chef's knives, butcher knives, paring knives, camping knives, pocket knives, and steak knives.
DuoDrix comes with an ergonomic handle and a solid, silicone base that will significantly decrease the chances of you getting cuts and wounds from sharpening your knives.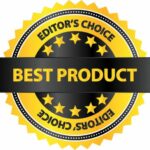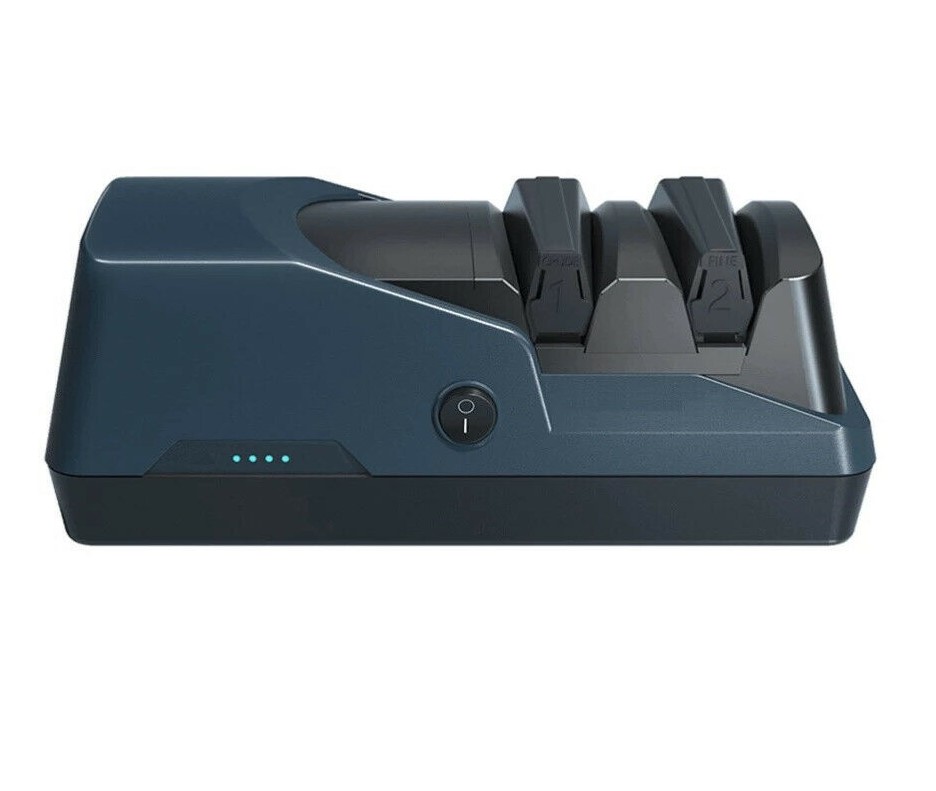 Main Feature: USB-powered Electric Knife Sharpener for Fast, Automated Sharpening
Are you over the seemingly exhausting way of sharpening knives using sharpening stones? Do you feel like there are more efficient ways of sharpening your favorite knives than endlessly grinding them on a stone to no avail? If you want a fast, and automated way to sharpen knives, we recommend the SharpVix.
The number one feature of the SharpVix is its automatic sharpener. All you need to do is to simply feed the knife through the sharpening slot, and SharpVix will do its job. Yes, none of that endless grinding – everything is purely automated.
We took a closer look into the SharpVix' design and we were all impressed by how it was built. The machine includes a dual-sharpening design that intricately sharpens the blade in just 10 seconds. If you're all about speed, THIS is the machine to get.
Safety-wise, SharpVix comes with no issue. It features a build that prevents the machine from causing injury. The machine comes with two slots to allow you to sharpen different types of knives. Portable and USB powered, you can bring this knife sharpener with you to your picnic trips, outdoor excursions, or backyard cooking sessions.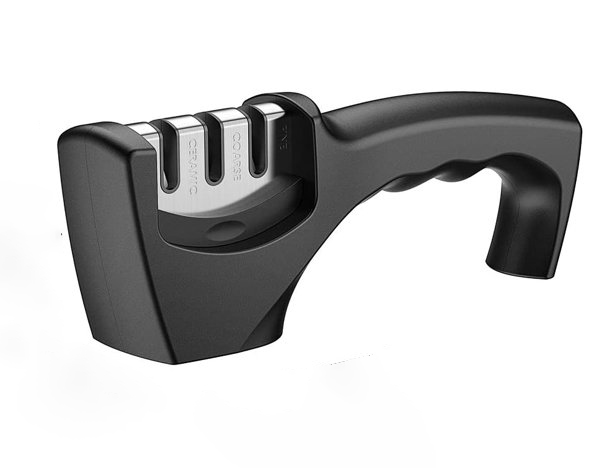 Main Feature: Compact, Portable Design You Can Bring Anywhere.
Are you someone who prefers simplicity and convenience? Do you want a knife sharpener that is compact and easy to bring everywhere? Do you shy away from bulky knife sharpeners because you are a pack-and-go kind of chef? For portability, our best recommendation is KutKrizz.
In KutKrizz, we found a sharpener that combines function with conventionality. It comes with a simplistic design – it's a sharpener you can hold with just one hand! It comes with a size that can easily be stored in bags, picnic baskets, and classic kitchen drawers. But despite its size, it is heavy duty.
The KutKrizz comes with three sharpening slots – one for typical knives, one for larger knives, and one for cutters with special edges. We're blown away when we realized that one handy sharpener can do a lot of things. The KutKrizz is the type of tool that's perfect for anyone on-the-go.
Its award winning design earned it the title "The Best Knife Sharpener for Travelers." If you're going camping, hiking, canoeing, or any outdoor activity where knives are necessary, this compact, portable sharpener is definitely one to include on your list of must-haves!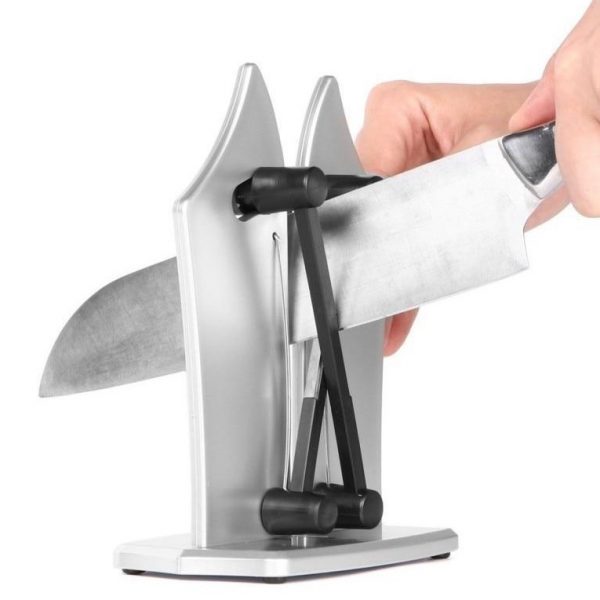 Main Feature: Improved Design to Restore Sharpness to Different Blades
You probably have a favorite knife lying in one corner that you can't get rid of. You are confident that with just the right sharpener, you can use your knife again. When it comes to bringing old knives back to life, we highly recommend the ProvaCut.
When we tested the ProvaCut, we were impressed by its unique design. It features a criss-cross spring action bars which we later discovered were for increasing the sharpness of the tip of the blade.
We love how using the ProvaCut is fuss-free. Effortless, almost. All you need to do is to run the knife into the criss-cross slot a few times, and your knife will be good as new.
Its ability to sharpen knives without electric assistance comes from its advanced criss-cross design and high quality tungsten carbide. Once the blade gets in, the carbide releases friction that will eliminate dullness from old knives. No need for grinding and endless rubbing. ProvaCut is easy but effective.
The ProvaCut works for all types of knives. Its slot is versatile and flexible enough for butcher's knives, boning knives, paring knives, cleavers, and traditional kitchen knives.
Knives are useful tools for all types of events. They're great for cooking, building something, addressing emergencies, and as a self-defense tool. When the quality of your knife is topnotch, you can be extra confident whether you're cooking for guests, building your camp shed, or when you're out traversing the wild. For safety, flexibility, and cooking success, having a knife sharpener is essential.
The knife sharpeners we feature here are personally tested, tried, and reviewed to ensure you get the best quality products.