The 4 Best Plant Stands Of 2022 For Every Space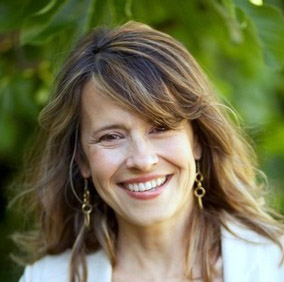 Kelly Brook, Contributor
Updated: Apr 5th, 2022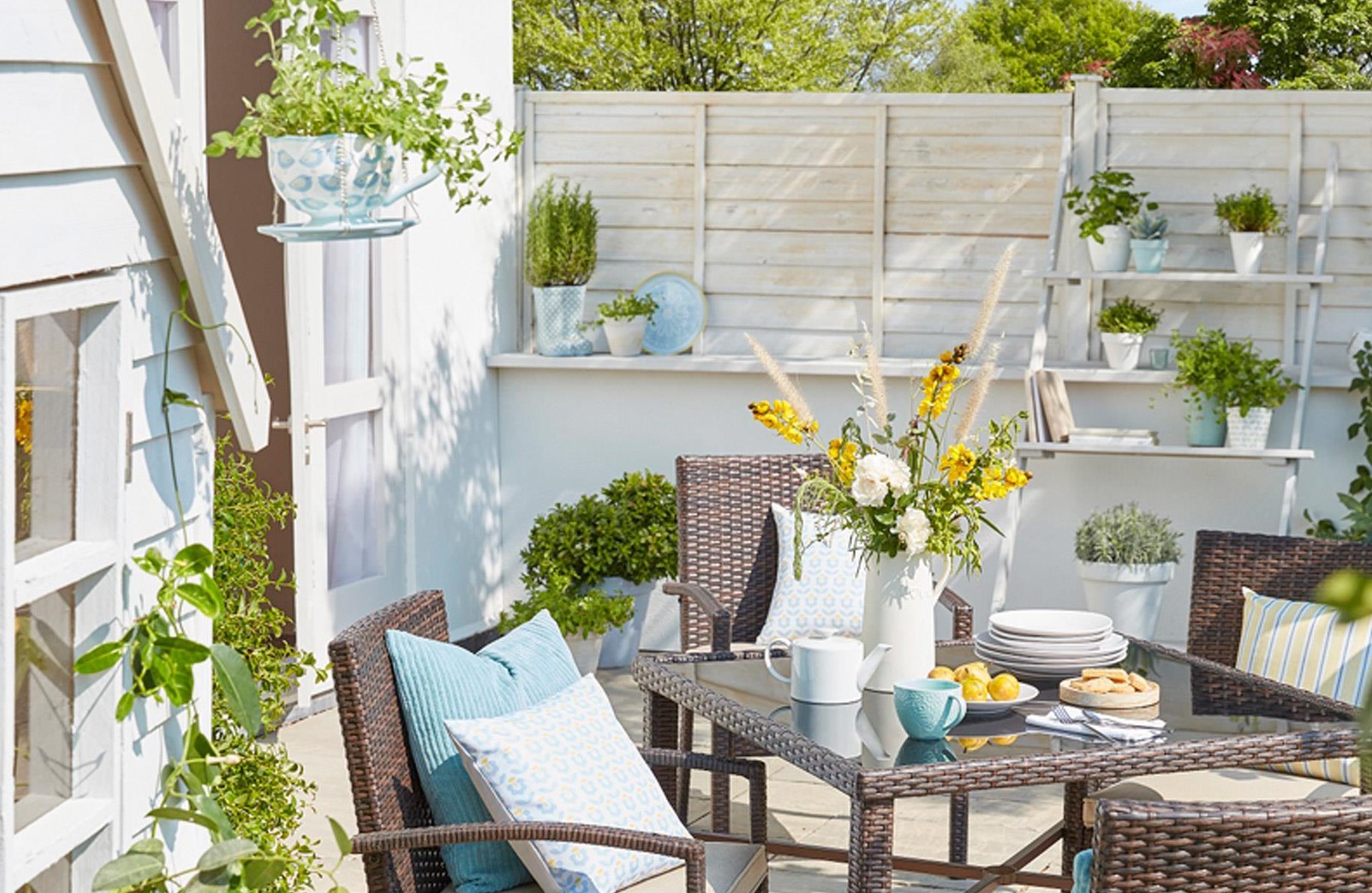 Plant stands are functional yet decorative pieces that are great home accessories for organizing your greenery, helping them thrive, and freeing up your floor.
When shopping for a plant stand, the first thing you need to consider is stability. While the material can play a big part in keeping its structure stable, its design and construction will ensure it won't sway or easily fall over. 
Its height and weight-bearing capacity are also important factors to consider. The last thing you want is to find your pots broken on the floor and soil scattered all over.
Here are four of the best plant stands you can add to your indoor or outdoor space. They have everything you could ask for in a stable plant stand with ample space and easy installation mechanisms. From zen wooden racks to retro metal stands, you're sure to find one that fits your needs and style!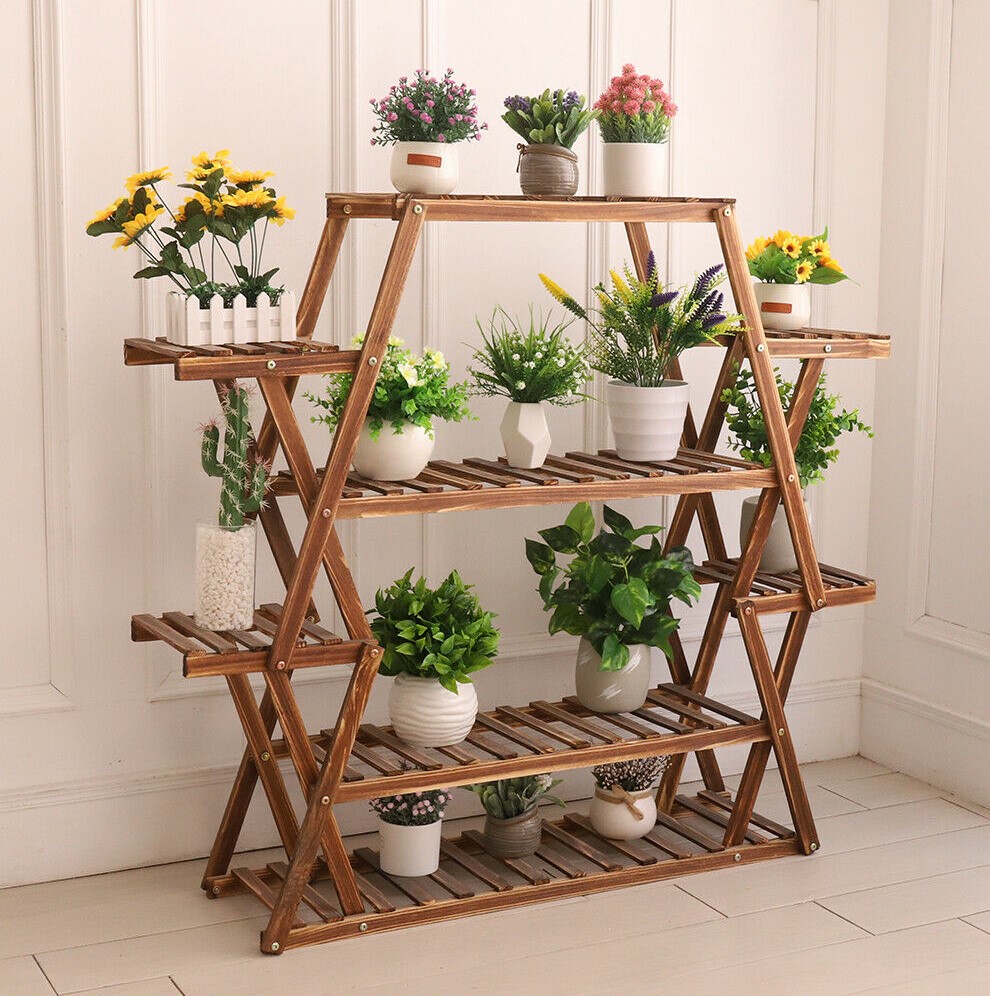 Our top recommended plant stand is this one made from solid pine wood with a triangular support structure for the best and most stable stance. It's only 6.5kg in weight but is strong enough to hold a total of 60kg. 
It's also wide enough in length to fit more than 12 potted plants and flowers and decorate a wide empty wall or window. 
It's constructed from pine wood, which is known to be strong and commonly used for floors and most furniture. Its wood has a 300℃ high-temperature carbonization, increasing the plant stand's overall durability and wear resistance, making it suitable for indoor and outdoor use.
It will arrive at your doorstep unassembled, but with a set of screws and an easy-to-follow installation manual to make it a pleasant DIY project.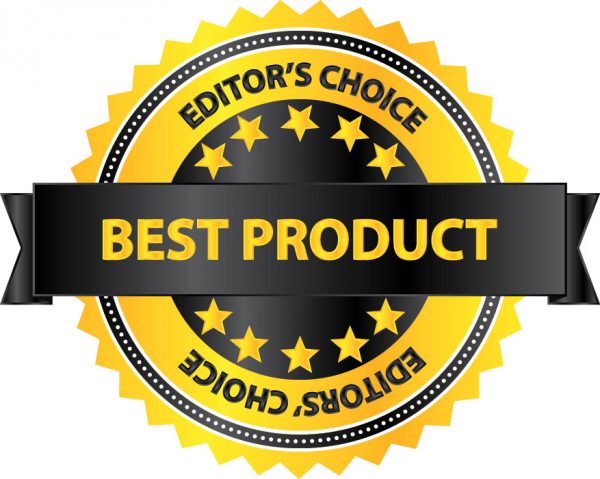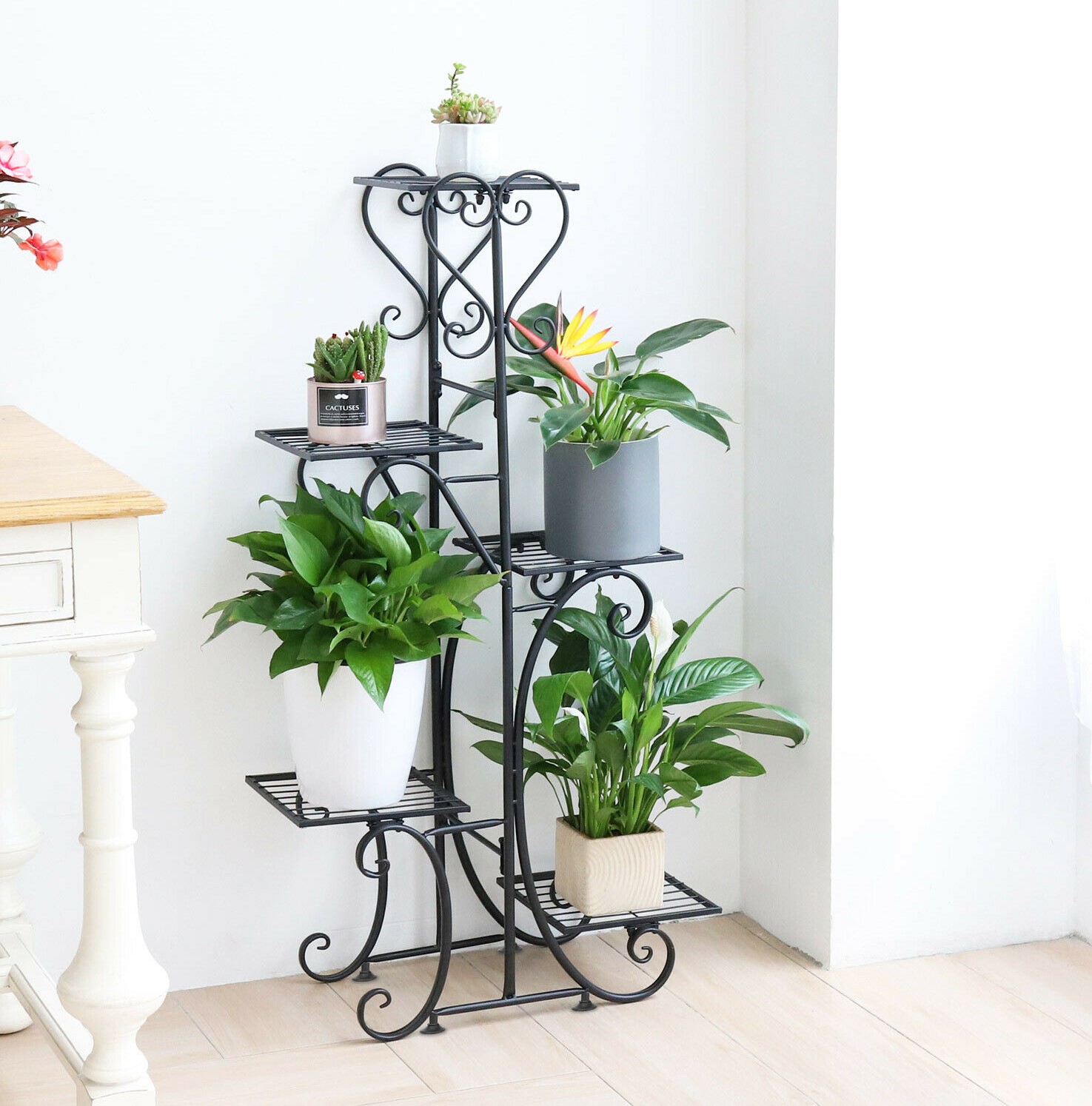 If you've got an exotic collection of plants with hanging pots in the mix, this Classic Homes iron plant stand is one to consider. It stands 42 inches tall with a triangular stance and four feet at the base for added stability. 
The elegant curves around the plant stand add stunning details and can be a place for you to hook some of your hanging potted plants. You'll need to balance it out by placing other pots or weighted decor on each tier. No worries, its total weight capacity is 50kg. 
It's made from quality iron steel with special finishings and sturdy mechanisms to prevent rusting, the paint from fading, and the structure from easily tipping over. Putting it all together will be a breeze with its simple connecting rod design and screw fixation.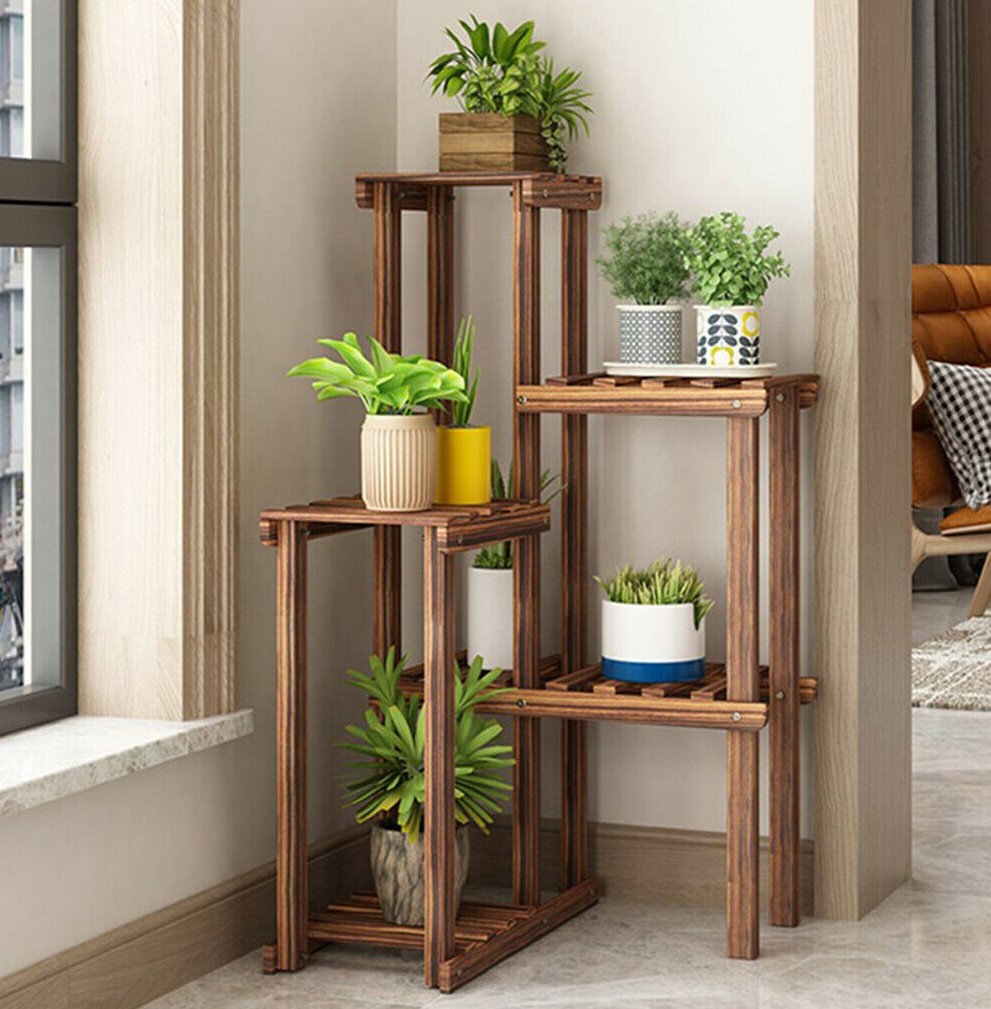 This L-shaped plant stand will clear up that row of pots on your floor and keep them in plain sight. You'll also be able to arrange your plants according to how much exposure to sunlight they need. It's perfect for bedrooms, offices, condos, apartments, or filling in a small empty corner in your home. 
Similarly, it's made from durable pine wood and has six asymmetric hollow-out tiers. The wood is strong enough to hold seven or more pots but easy to work with and put together. It comes with all the materials you'll need to assemble, such as screws, a wench, and an installation instruction manual. 
The UNHO plant stand is the best space-saving option that provides ample room for all of your potted plants and makes your home more inviting.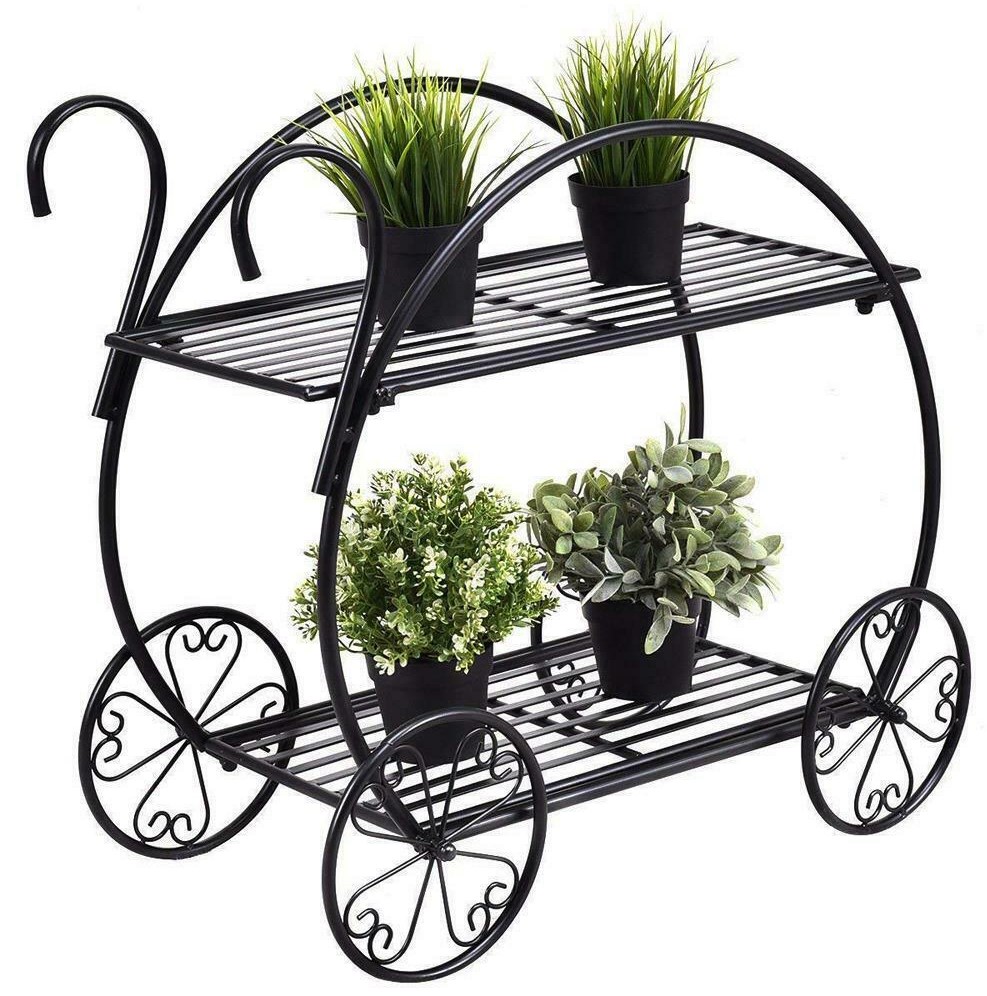 You can easily elevate your porch or patio with a decorative piece like this that can hold up to four medium-sized pots and support a total weight of 7.7 lbs. Because why not showcase your thriving plants for the world to see, right?
Its steady metal structure has a special coating that's weather and rust-resistant and a connecting rod design that requires no heavy tools. The four wheels function as a sturdy base, so you won't need to worry about it rolling away or easily tipping over.  
Another great thing about displaying your potted plants on a stand is to make it easier for you to water and tend to daily—especially the little ones. 
It's time to take your plant obsession to the next level by showcasing them in a multi-tiered plant stand. Our list brings together four of the best ones in the market to make your potted greens thrive and shine.
We hope this helps narrow down your search for the plant stand that suits your needs, space, and style. Whichever one you go for, you can expect durability, stability, and an easy installation mechanism. Your green-loving heart will be satisfied.