Best Grinders for Spices: Top 3 Spice Grinders for More Delicious Delicacies in 2022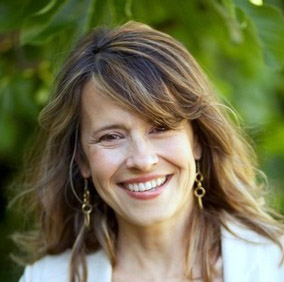 Kelly Brook, Contributor
Updated: Mar 8th, 2022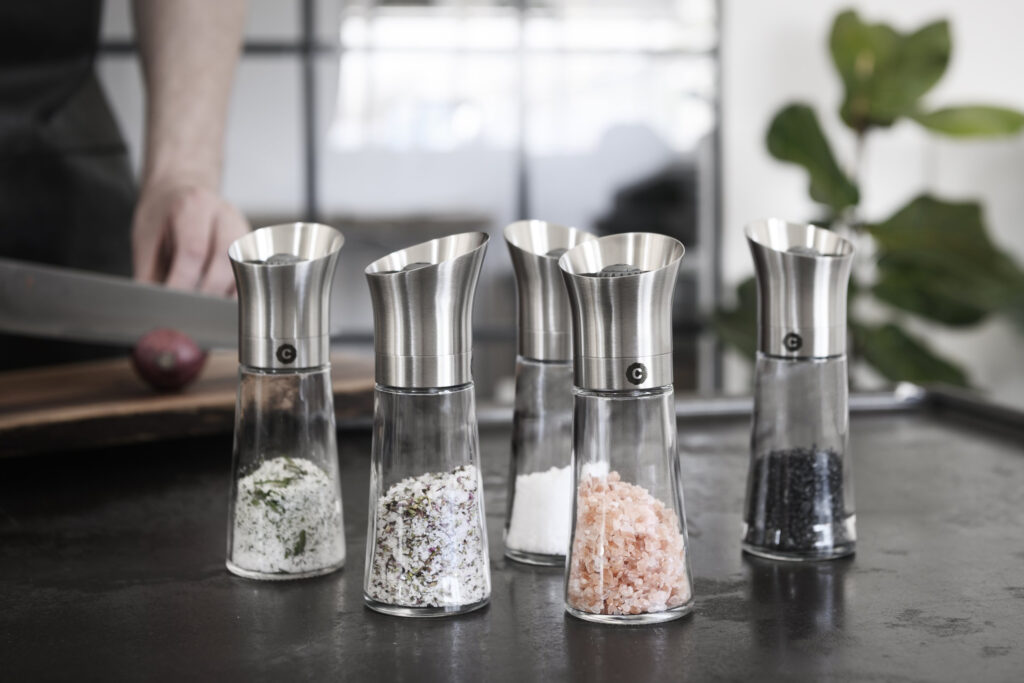 Fresh spices can elevate the flavors of food like no other. You can taste the best of China with the five spice combination, and India with the masala blend. With spices, you can have a better gastronomic experience that stale, pre-ground spices can't provide. The best way to enjoy the volatile, fleeting aromatic spices is grounding them before using them – an easy, ever-possible solution with the help of electric spice grinders. 
The good, old mortar and pestle is still something to consider. However, if you find the process exhausting and time-consuming, you definitely need a reliable automatic spice grinder in your kitchen. 
If you are here because you are looking for the best spice grinders to buy in 2022, you have come to the right place. In this review, we are featuring the top 3 best automatic spice grinders for chefs, home cooks, and cooking enthusiasts! 
What to Look for in a Spice Grinder
Among all the grinding machines that promise the perfect, fine, well-pulverized spices, which one should you choose? 
As big cooking fans ourselves, our team understands the frustration that comes from grinders that produce disappointing results like uneven coarseness, and not-so-fine spice powders. This is the reason why we were so eager to find the top picks to save readers like you from the stress of spices that will only go straight to the garbage. 
To help us decide, we asked the recommendations of chefs, bakers, caterers, and cooking fanatics for the best spice grinders in 2022. 
Out of all the recommendations, we were able to glean 4 crucial factors when picking out an electric spice grinder for your kitchen. 
First, Motor Power
"My grinder just could not handle an ordinary peppercorn!" 
Perhaps you have once said this as you looked into the spice bin only to find unevenly-grounded peppers. 
Spices are not created equal. Coriander seeds are easier to pulverize than peppercorns. Cinnamon barks can be tough to break down. If you are dealing with multiple varieties of ungrounded spices, it's important to consider a spice grinder that can handle it all. If you can see yourself grinding challenging ingredients, it's better to opt for a heavy duty grinder powered by a 150-200watt motor. 
Second, Blade Quality
The secret to great quality spice powders lie on the quality of the grinding blades. Top notch blade quality produces evenly grounded, finer, and more potent spices. Going for a pure steel, or ceramic blade can make all the difference. 
Third, Customizability
Different spices require different grinding modes. The grinding feature used for peppers will not be applicable to cinnamon barks. It is crucial to find a spice grinder that caters to different types of spices, can grind according to your preferred coarseness, and can offer grinding options for lighter ingredients like dried leaves and herbs. 
Fourth, Ease of  USe
The best spice grinders won't give you a headache when you're trying to operate them. One-touch grinders are a must have. We also came across tilt-only grinders and we honestly left the review spot impressed! To avoid spice wastage, and frustrating encounters in the kitchen, your spice grinder of choice should be easy to use. 
Out of all the spice grinders we reviewed, here are the top three options that stood out!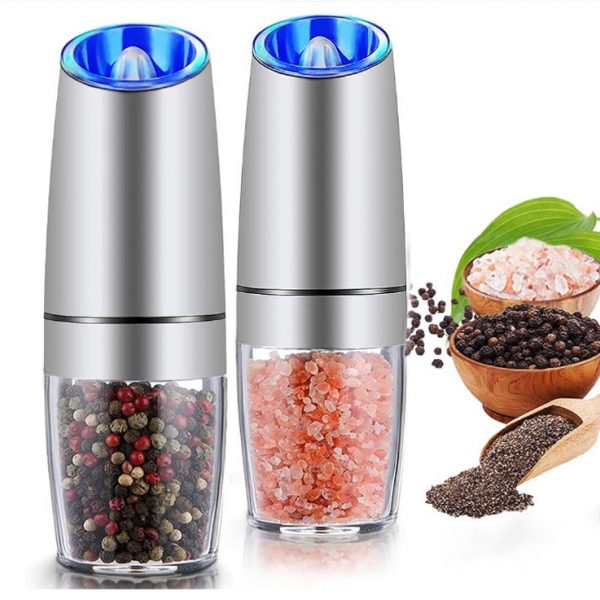 Main Feature: Elegant Design, Automatic Spice Grinder
Do you want to impress your guests while eliminating the need to manually ground spices all the time? Most automatic grinders look, well, basic. Not with the MatoSprinkle. This elegant automatic spice grinder is a beauty to see on the table, and it makes freshly-ground spice goodness possible every dining time. 
We love how we no longer have to use our two hands to get fresh spice during dining time. The machine of the MatoSprinkle is prompted by gravity. All you need to do is to tilt the bottle, and the spice grinder will automatically start. No need for seemingly endless twisting of the bottle to get the crushed spice goodness. Spices are ready for your food in just 15 seconds. 
The MatoSprinkle comes with a ceramic grinder that can be adjusted to cater to your preferred coarseness on spices. The adjustable knob offers up to 10 texture options. 
If you love mixing peppers, the MatoSprinkle is perfect for you. The canister can hold up to 250grams. You can use all types of peppers so you can get the full flavors you've always loved. 
The MatoSprinkle is powered by 4 AA batteries which allows you to carry it anywhere, and everywhere. This grinder is ideal for outdoors, camping, picnics, and roadtrips. 
We also love how elegant the design of the MatoSprinkle is. It's the perfect addition to any dining spread. Your guests will surely love it.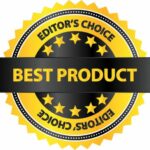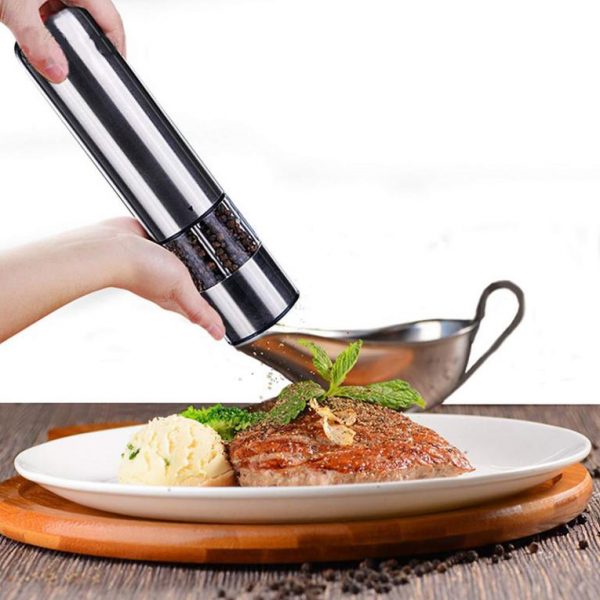 Main Feature: Easy to Use Sprinkler with LED signal light. 
Are you always in a hurry and you don't have time to manually make your spices and herbs? Do you want fresh spices ready every time you cook? For cooks, chefs, and food fans who are always on their feet whipping up the best dishes, you can enjoy fresh, ready-to-add spices with the GiistaPour. 
"I love how this is so easy and simple to use! No need for one million buttons!" Exactly our collective impressions when we reviewed the GiistaPour. This device is the very definition of easy. All thanks to its redeveloped design that enables spice grinding with just a tilt of the spice bottle. Once the sensor catches a tilting motion, it will start grinding the peppers, salt, barks, and other dried leaves. 
The one-hand operation of the GiistaPour allows cooks to use their other hand for other important things such as mixing other ingredients, or cooking other meals. 
With just one click of the knob, you can adjust the fineness and the coarseness of the peppers and salt. With its high quality ceramic blade, you are guaranteed that the grinding process will result in equal and even texture every time. 
The blades of the GiistaPour is non-corrosive, meaning you can enjoy its benefits for a longer period of time. No need to worry that it will yield to hard-to-crack ingredients. 
We particularly love the LED signal light of the GiistaPour. Other spice grinders make it hard to tell whether it's still grinding or not. This causes over-seasoning. With GiistaPour's, LED light signal you'll know when to stop and continue so you can get just the right amount of spices for your food. 
Battery-powered, the GiistaPour is the perfect spice grinder for on-the-go cooks!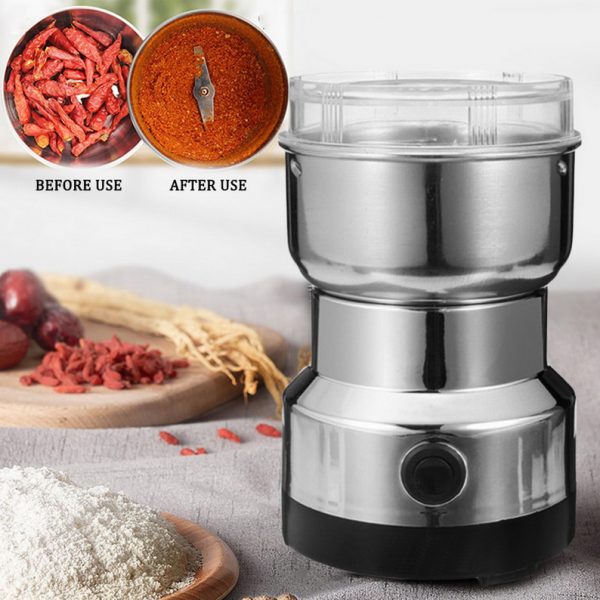 Main Feature: With a powerful motor for all types of spices, beans, and herbs.
If you consistently finding yourself exhausted from making various spices using a mortar and pestle (and not getting the texture and fineness that you've been eyeing), you might be needing a motor-powered spice grinder that can efficiently and quickly turn your favorite seeds, leaves, sticks, and barks into spices ready for cooking. We found the best product for heavy duty spice creations – the GrindaBest. 
GrindaBest isn't shooting for the moon when it says it's the best. This grinder is powerful – all 200-watts of motor concentrate on grinding your ingredients in under 20 seconds. 
With different grinding times comes different spice textures. If you want a finer texture, make the grinder work for 15 seconds. Shorter grinding times leave you with a little coarse spice blends – great if you prefer to have bits on your spice powder. 
The GrindaBest's pure steel blades impressed us on how it can easily work with hard-to-grind ingredients like cinnamon barks, and dried seeds. The blades also work well in keeping the texture of the spices equal and even. 
One thing we love about GrindaBest is its easy-to-use feature. All the goodness happens with just one touch of a button. This device is portable – you can bring this outdoors, on a camping trip, while on a picnic, or in your office. 
Don't let traditional spice grinders exhaust you. Get the right mix of spices for your food without the stress. Enjoy the benefits of freshly-grated and grounded spices without the exhaustion. With our top recommended spice grinders above, you can enjoy a better gastronomic experience!