The 4 Best Spice Racks of 2022 for Every Kitchen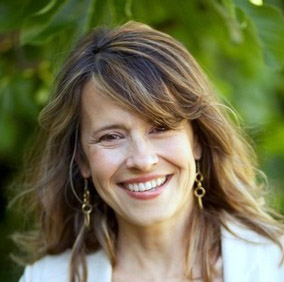 Kelly Brook, Contributor
Updated: Feb 6th, 2022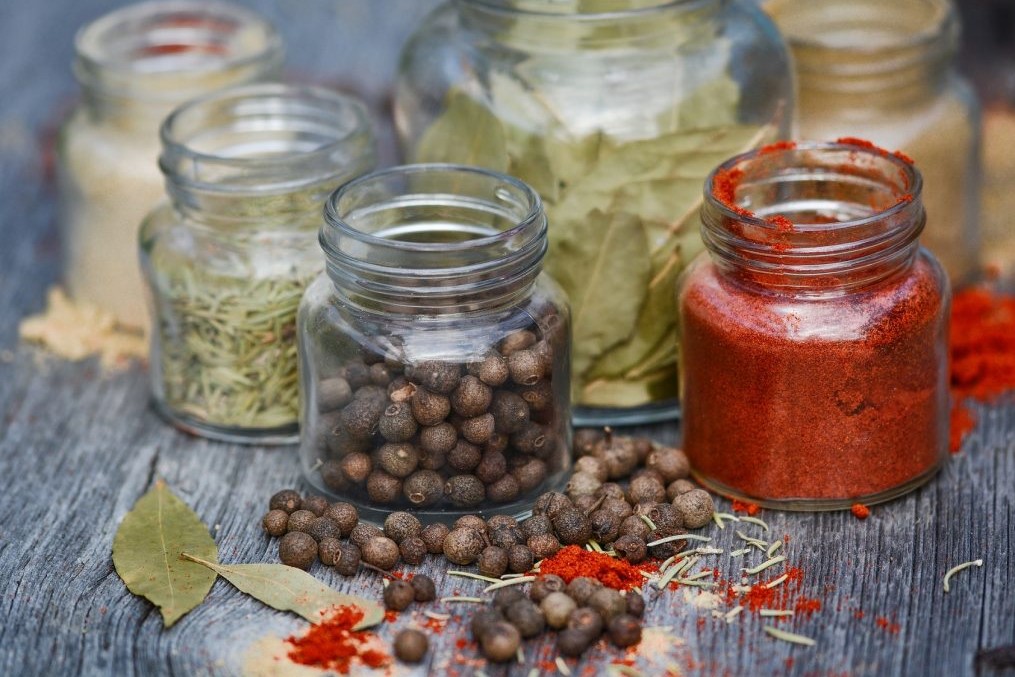 Getting an organizer for spices and seasonings is often the last thing on everyone's mind because it's a collection built with time. However, it's a must! 
Having a well-organized kitchen or pantry not only saves you time and boosts productivity but also avoids any accidents like spills and glass breaking. So take a moment to go through your kitchen. Do you have an extra drawer or cabinet space that you can dedicate to your spices? Or do you simply need to clear out and organize your countertop? 
We've rounded up four of the best spice racks that will fit any kitchen space and provide the most convenient storage solution for these precious ingredients. You want to pick a spice rack that helps you stay organized and maximizes space while also keeping your spices in an easily accessible spot, especially when you're cooking.
Meet our top picks!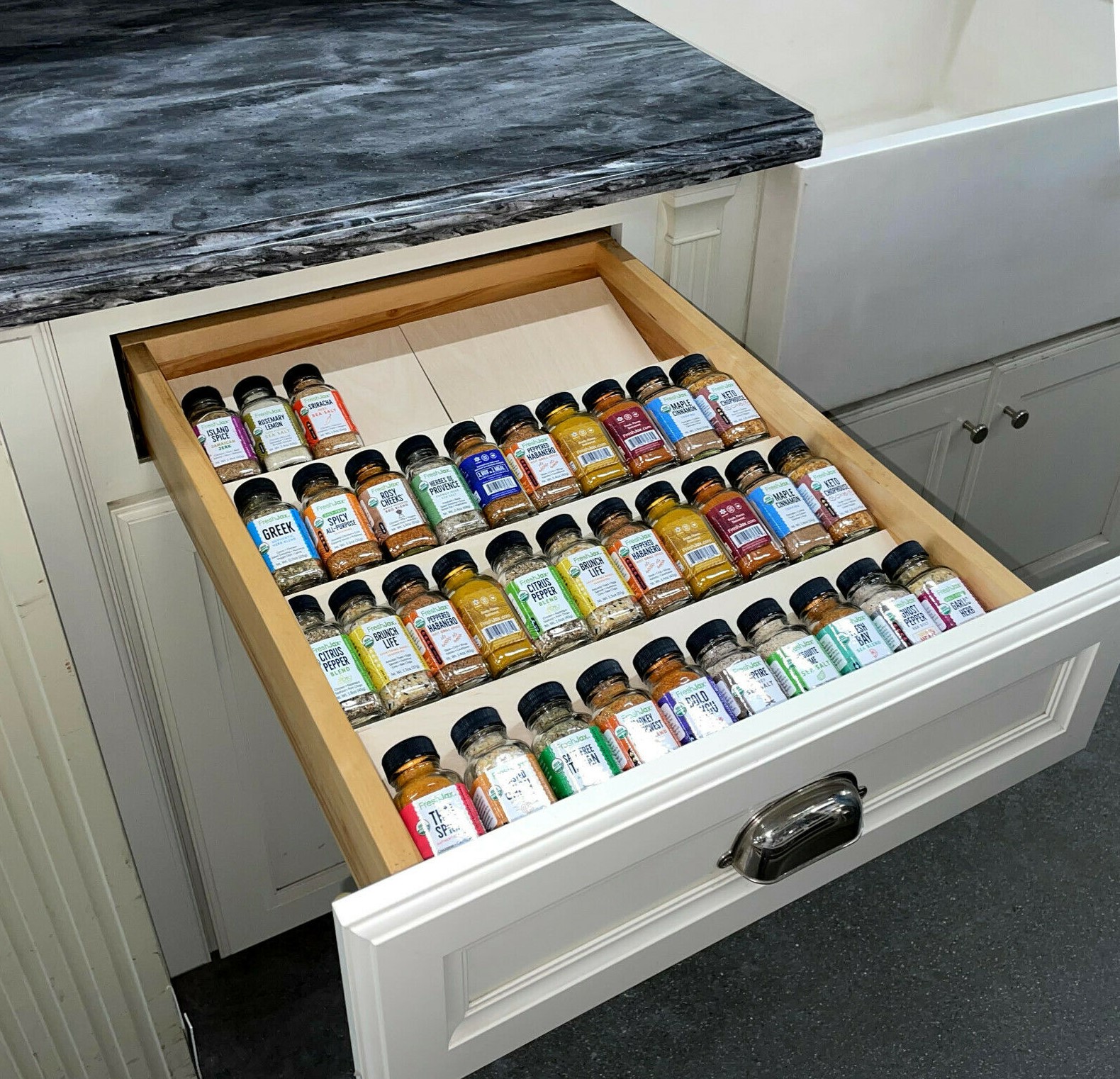 Too much exposure to heat and moisture will only cause your spices to clump. That's why storing spices in a drawer is the best way to go because it keeps the dust away, is within easy reach while cooking, and maintains their quality.  
This 4-tier spice rack is made from lightweight yet durable natural wood with an elevated and angled design, making it even easier to grab your chosen spice or seasoning when cooking. 
There's no need to take out your tools to assemble this rack because you can simply pop it into your drawer and instantly arrange your spices. It comes in two sizes that will fit most standard drawers. But if you'll need to cut it down an inch or two for a snug fit, it should be a quick fix as the wood is easy to work with.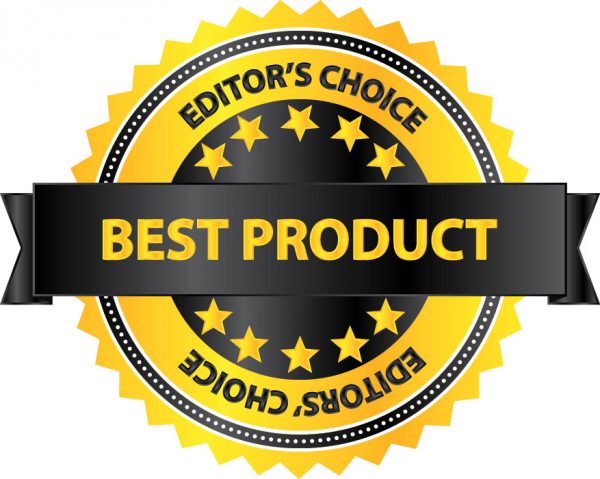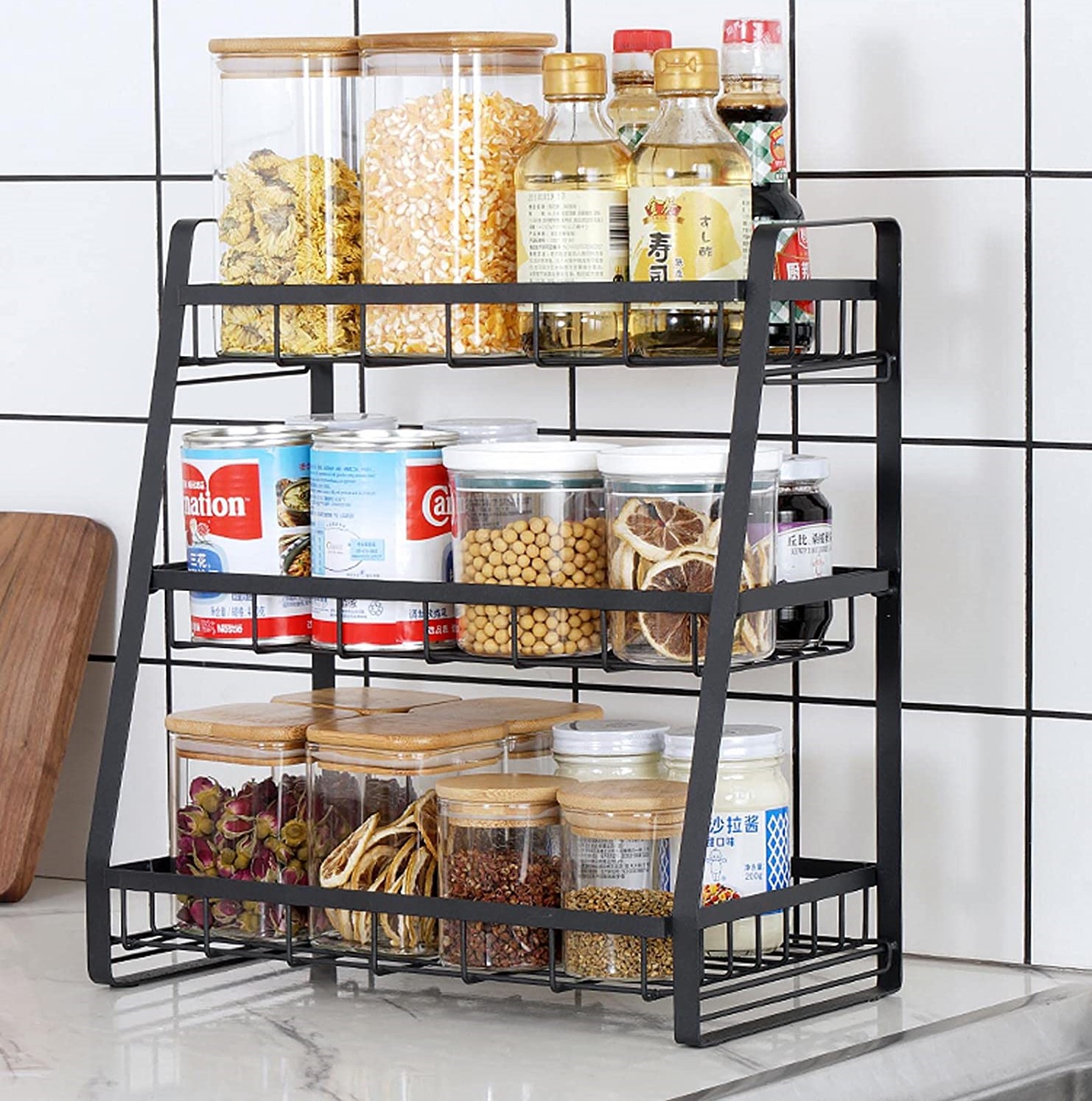 If you have an exotic collection of spices and seasonings in different size bottles that you need to organize on your kitchen countertop, then a rack stand is what you need. And one that stands firm at that.
You can say goodbye to an overcrowded countertop and organize all of your cooking essentials on this Storage Solutions stand. It has three spacious tiers, but you can easily remove the middle one to store tall bottles. From spices to oils to pastes, you'll be able to fit everything on this metal spice rack stand. 
Its flat feet with anti-skid pads make it sturdy and wobble-free, so you won't need to worry about it tipping over when you're grabbing something in a hurry. Each tier is also designed with protective fences to make sure nothing falls off.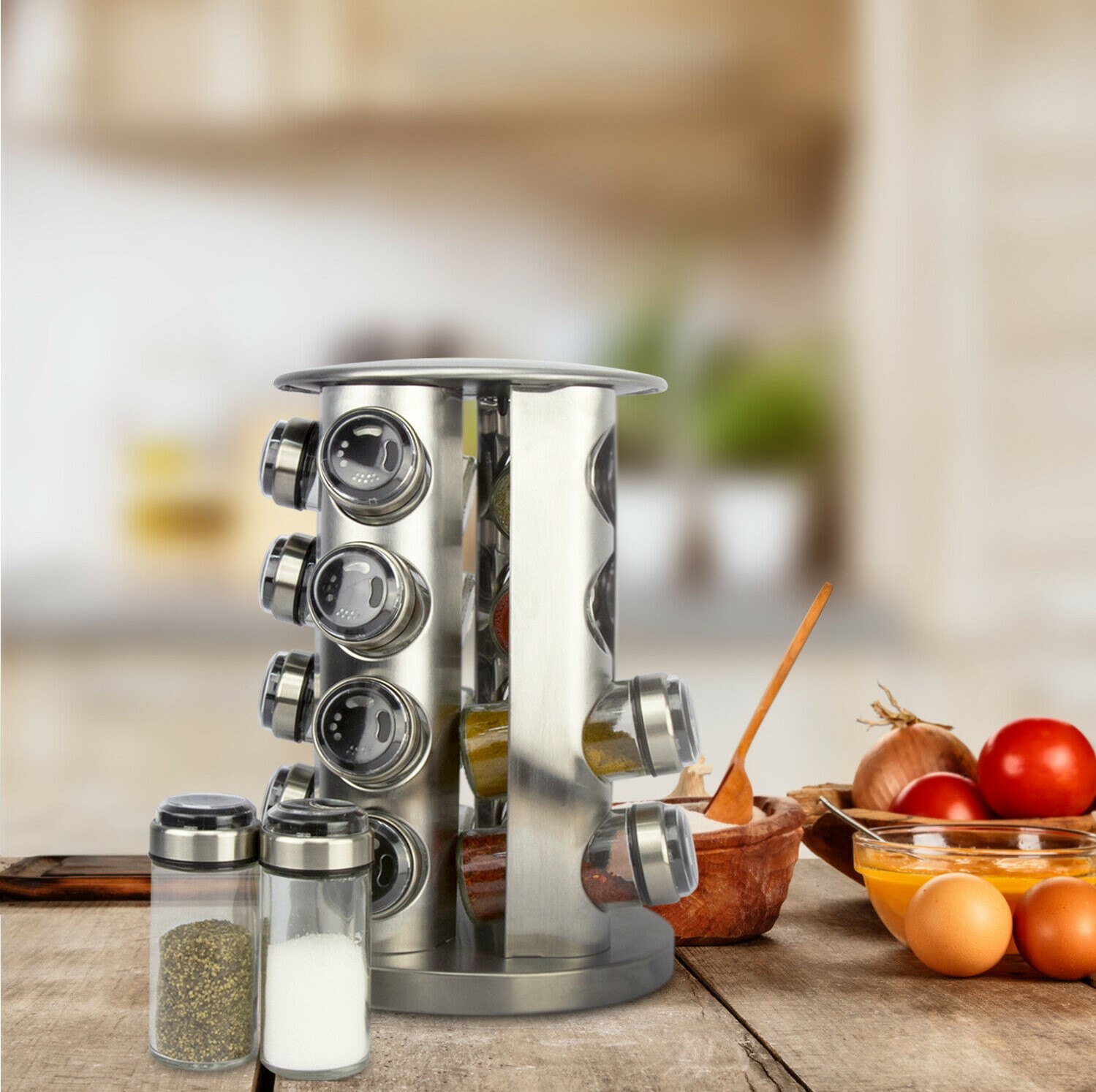 Unlike others that come with plastic or pre-filled jars, this Neat Essentials spice rack set comes with 16 empty glass jars, so you can seamlessly transfer all of your favorite spices to keep them organized on your kitchen counter. 
Its sturdy stainless steel base rotates in both directions. The clear glass jars allow you to see through and identify each spice or seasoning, but you can add a sticker label on the cap to make it even easier. Each cap rotates to three different openings to help you perfectly season your food. 
If you're keeping your spices on your kitchen counter, you want to make sure they don't dry up or clump easily. That's why it's best to store them in glass jars instead of regular plastic bottles or bags to protect them better from moisture when cooking.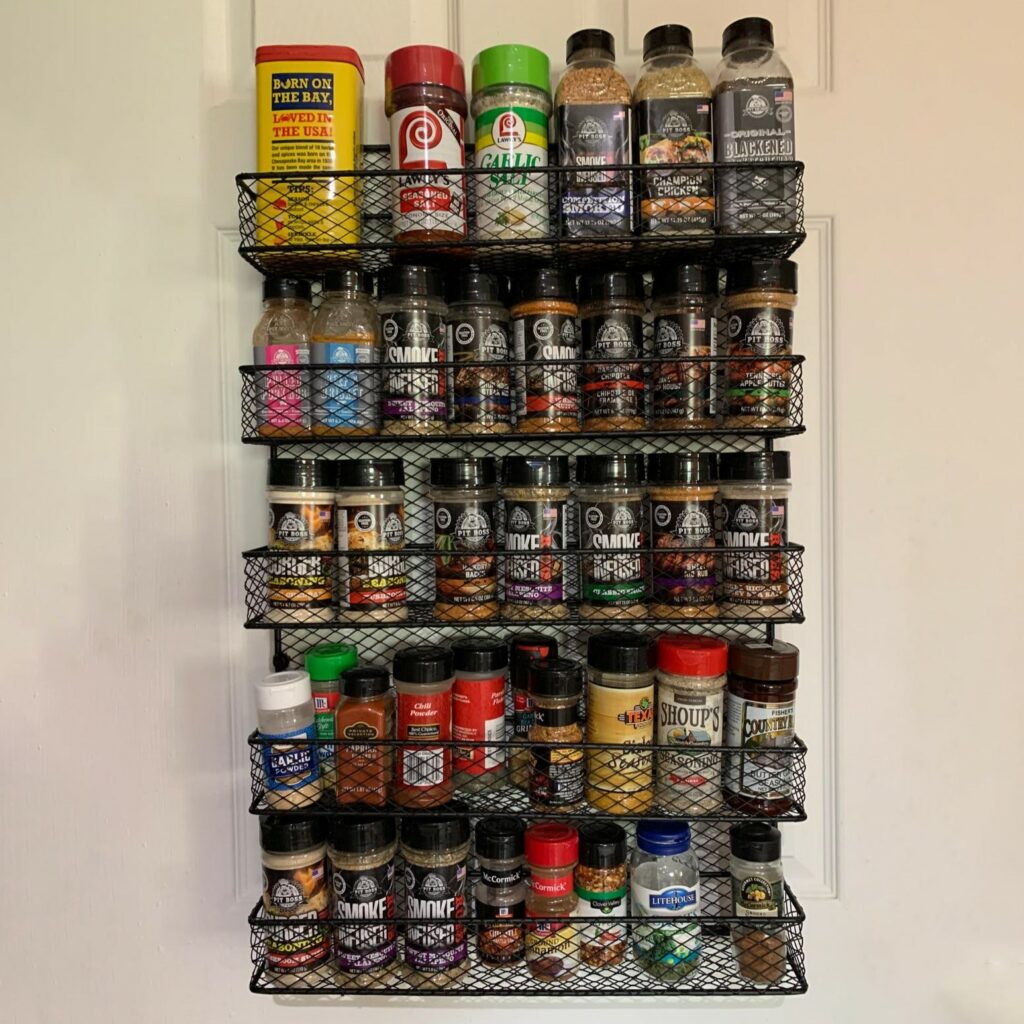 A wall-mounted spice rack is a wise choice if you're looking to organize all the spices and seasonings in your pantry. It will even leave you with more space! 
This wired Home Complete spice rack is a stylish, space-saving solution for tidying up your pantry and making everything easy to find. Imagine clearing out an entire shelf of jars and bottles and being able to reach out for what you need in an instant. Not to mention eliminating the possibility of buying two of the same things. 
Mounting screws are already included, so along with stress-free results comes a hassle-free installation and long-term support. This wall-mounted spice rack is even more perfect for kitchens and homes with limited space. 
Whether you're moving into a new home or need to tidy up your kitchen, a spice rack is an essential tool for organizing and properly storing these flavorful ingredients. Being able to see and easily access your array of spices and seasonings also helps make sure every recipe you cook is a success. 
So take the time to go through what you have, your space, and get everything in order with a spice rack ASAP. We guarantee it will save you time, and even money, in the long run.