The Best Under Cabinet Lights to Buy in 2022 to Increase Functionality and Aesthetics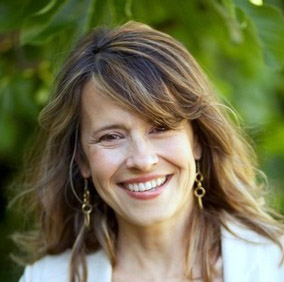 Kelly Brook, Contributor
Updated: Mar 8th, 2022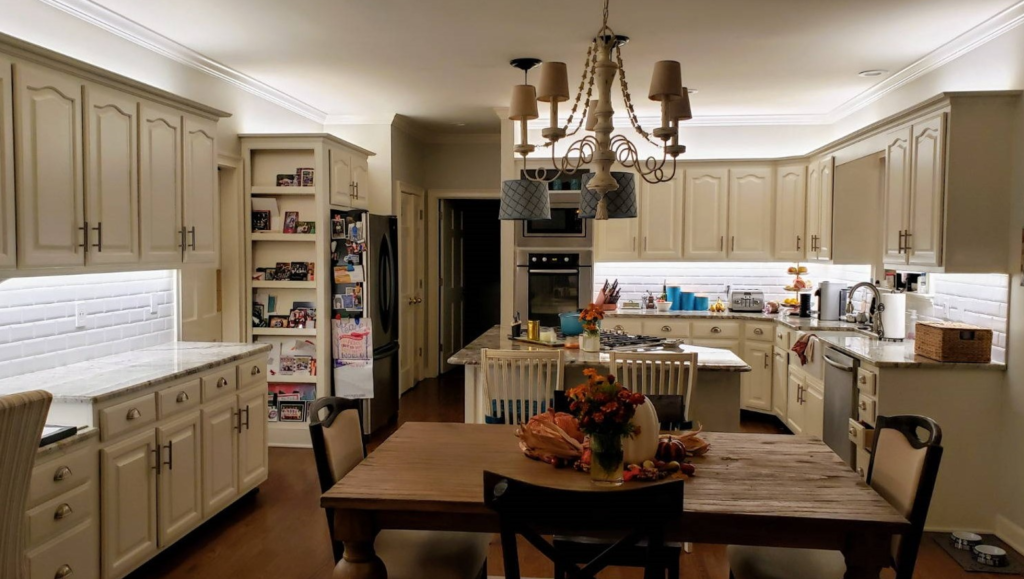 A great lighting fixture – when chosen right – can increase the aesthetic appeal and functionality of our most favorite spaces. This is the reason why the demand for under cabinet lights is through the roof.
Under cabinet lights have become popular – and relatively affordable – options for practical and aesthetic purposes. These focused light fixtures are designed to provide much needed illumination over counters, inside closets, and around the sink and prep areas. These slim lighting products are also a great alternative if you want to add a soft, mellow illumination to your favorite spaces without the need for the harsh glow of overhead lights.
With under cabinet lights, you no longer have to opt for unnecessary strong and striking lights – there's a lighting option that won't compromise proper illumination and aesthetics.
If you're looking for the best under cabinet lights, you have come to the right place. We personally tested, tried, and reviewed different under cabinet lights to come up with the best recommendations.
What to Look for in Under Cabinet Lights
How can you tell if you've opted for the best cabinet lights? As homeowners and interior design fans ourselves, we were so eager to find out the answer. To ensure we pick out only the best, we asked the help of interior decorators, architects, lighting experts, and designers to narrow down our choices.
In our interviews, we also gleaned the top factors to consider if you're planning to buy under cabinet lights.
The Type That's Ideal for Your Needs
The usual under cabinet lights come in three types – puck, light bars, and tape lights.
Consider where you are installing the lights. Do you want to add illumination all around your mirrors? Tape light. Do you want to light up your closet? Puck light. Do you need it for your kitchen? Light bars.
Knowing where you are going to place them can help you decide better.
Wired or Battery- Powered?
Since the powersource is very important in keeping your under cabinet lights from malfunctioning, you have to consider what your lights will be powered from. If you're placing them far from the electric outlets, consider a battery-powered light. If there's an outlet available, opt for wired ones.
Additional Features
If you're keen on keeping the security around you, you can consider getting lights that come with motion sensors for extra security and convenience.
Out of all the under cabinet lights we have reviewed, here are a few that stood out.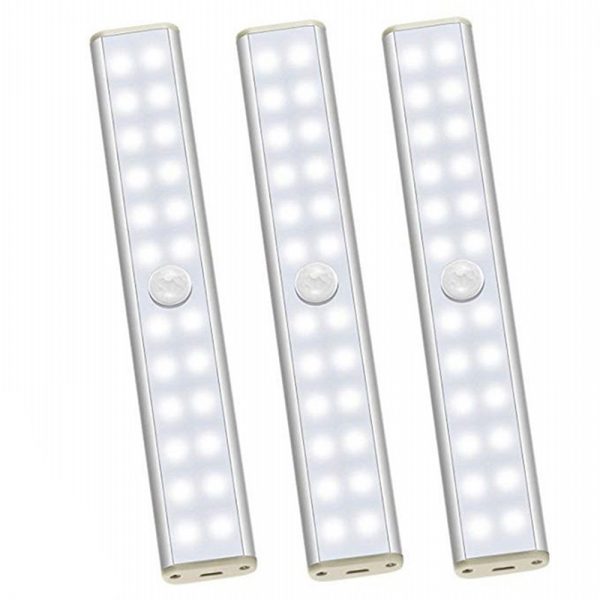 What makes a light versatile? For our team, it means the device can be used in various spots, and can also be useful outdoors. With this criteria, we were able to find the VisibaBrite – a 52-LED light with motion sensor.
VisibaBrite doesn't fall short in versatility. Its design is ideal for all places – you can use it under the cupboards, over the kitchen sink, inside closets, and even on the stairs. The easy-to-install makes the VisibaBrite convenient to attach on any surface – no tools required!
What we also love about the VisibaBrite is you can bring it outdoors. It can double as an emergency light for activities that may require light for safety such as camping and hiking. Thanks to its chargeable feature, you can use the VisibaBrite wherever you are – you won't need electrical outlets just to make this device work.
This light comes with 4 adjustable lighting modes. You can find the best setting for rooms, kitchens, bathrooms, stairs, patios, and nursery rooms.
The VisibaBrite also comes with a sensor. If movement is sensed within 3-5 meters, the light immediately turns on.
For versatile, multifunctional under cabinet lights, we trust the VisibaBrite.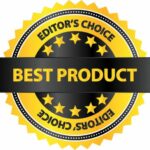 At first glance, you'd think its low maintenance feature is what makes the ZirkaLyt puck light standout from other options out there. Although ZirkaLyt sure is a convenient choice if you want to have under cabinet lights that are easy to install, there's more to it than that. We recommend ZirkaLyt to those who want to automate their lighting fixtures at home.
Yes, what a design – the ZirkaLyt comes with a remote control function that allows you to change and customize the lights without having to stand up and manually fix the light.
ZirkaLyt does not come short in quality. We compared it to its larger contemporaries and we still noticed how – despite its size and design – it can still emit up to 55 lumens of light. That's bright enough to keep things visible without you having to turn on your main light.
The ZikaLyt comes with an adjustable dimmer, and timer so you can establish a light setting for a particular time. You can keep the lights brighter at night, while opting for a more mellow brightness during the day.
Another impressive thing about ZikaLyt? The longevity of its battery. When fully charged, it could run up to 100 hours!
For automation, convenience, and longevity, our trust goes to the ZirkaLyt.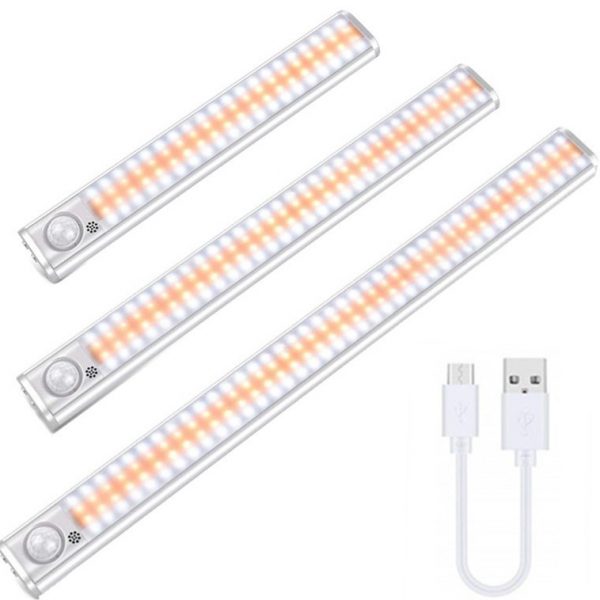 Main Feature: Sensitive Sensor that Functions During the Day and Night
Are you looking for a light fixture that not only upgrades your aesthetics but your safety as well? Imagine this – you're fumbling in the dark trying to find the switch. Isn't that such a hassle? Good thing we found LumosViax.
Unlike other cabinet lights with sensors that only work during the day, the LumosViax's sensors function well during the day, and during the night. This means that when you need to find something in the middle of the day, you will still get added illumination from LumosViax!
This light device comes with 3 color options – warm, white light, and natural light. Each color option emits 8000 lumens to ensure you get the brightest light you can ever get from an under cabinet light.
We love how installing LumosViax is super easy! You can either use the magnetic strip or simply stick it onto any iron work. You can easily remove the LumosViax when you need to transfer it or charge it.
This lighting fixture is surely a great buy who wants to improve the aesthetics and the lighting quality at home!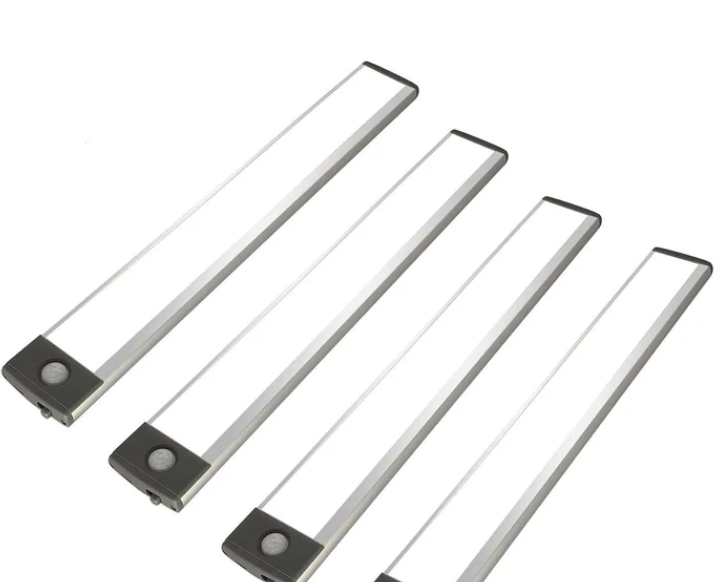 Main Feature: Wireless Lighting Fixture.
Are you in a dilemma because you want to add lights to certain areas but you feel like you can't due to not having enough power outlets? Do you want to do away with all the complicated wires? We recommend the LoomZen.
LoomZen is a wireless, battery-powered under cabinet light that doesn't need wires, power outlets, and complicated installations. Using the LoomZen is simple – you just use its magnetic strips so you can attach it onto any wall and surface. We love how we can say goodbye to endless hours of installing lights.
The LoomZen comes with a motion sensor – it immediately turns on after sensing motion within a 3-meter range. This means you won't have to manually turn on the lights – they turn up when you're near. No more scrambling in the dark for the switch.
This under cabinet light comes with a battery that's built to last long. When fully charged, the lights can run up to 24 hours of continuous lighting.
The LoomZen is a great addition to kitchen cabinets, closets, and even stairs.
The benefits of good lighting cannot be overestimated – it keeps us safe, it helps elevate the look of our space, and it wards off danger. If you're committed to not skimp on great lighting fixtures, adding under cabinet lights to your essentials is a must. Our recommendations above are personally tested, tried, and reviewed to ensure you that you get the best options available in the market.