Weighted Blanket for Sleep Concerns: Best Filled Blankets According to Experts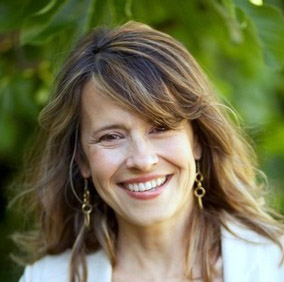 Kelly Brook, Contributor
Updated: Apr 6th, 2022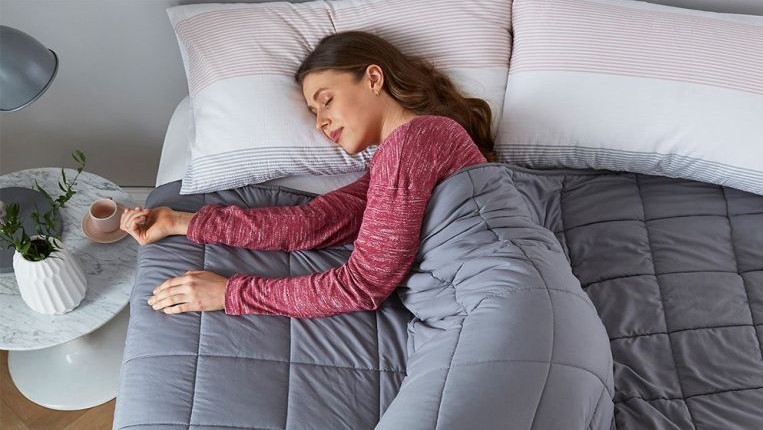 Great reviews and feedback come from people who use a weighted blanket to claim their sleep quality. You want a weighted blanket, too, so you can once again experience the sleep that leaves you recharged after waking up. There's just one stretch – there are already so many weighted blankets in the market that you are no longer sure which one to get. 
As big fans of weighted blankets ourselves, we understand the struggle. We had our fair share of mistakes when buying filled blankets – we encountered a couple of picks that did not deliver. To ensure our readers won't have to go through the same thing, we decided to thoroughly review the most popular weighted blankets in the market in 2022.
With the help of sleep experts and actual users, we determined what makes a weighted blanket suitable and which weighted blankets you should put your money in. 
How We Decided
With sleep experts on board, we allotted two weeks to check the best-selling weighted blankets in 2022. We spent hours using the blankets and taking notes of things we liked and did not like. 
Here are some significant factors to check out when buying weighted blankets from our review. 
The weight of the blanket
What is the ideal weighted blanket based on your weight? 
Computation: your weight x 10%
If you weigh around 120 lbs, go for weighted blankets around 10-12 lbs, 15 lbs max. Going for a weighted blanket compatible with your weight can better increase the sleep benefits. 
The type and quality of fillers
We looked for fillers that don't easily spread apart and will not cause discomfort and too much warmth. 
The stitching of the blanket
We are all about quality make. This is why we went for blankets with impeccable stitching to make sure they last and don't quickly lose their weighted feel. 
The fabric quality
All blankets featured here come with skin-friendly benefits that will leave a soothing sensation on your skin. 
The maintenance that will go into the blanket
The weighted blankets in this list are machine-wash friendly. 
Out of all the blankets we have reviewed, these top 3 weighted blankets stood out. 
The heaviest and the coziest in the list, the ArdentSleep is our top pick for the weighted blankets that can support a more restful sleep for those suffering from insomnia, ADHD, restlessness, and anxiety. 
The design of the ArdentSleep is created by sleep experts and is specifically designed to copy the sensations of a "warm embrace." 
The ArdentSleep comes with an impressive weight of 15 lbs (6.80 kgs) to offer enough pressure to calm the nerves and make you feel safe and secured. This weighted blanket is ideal for adults and for the elderly. 
This weighted blanket uses glass beads as fillers. These fillers provide enough pressure without compromising your comfort. The blanket is heavy, but we did not feel any intense warmth that could affect sleep quality. 
We are also impressed with the stitch quality and style of the ArdentSleep. The blanket uses grid-like stitching that keeps blanket and beads intact. You won't have to worry about beads spilling or the blanket breaking its stitches. 
The fabric of the ArdentSleep is also skin-friendly – it is soft enough to bring a soothing effect on the skin. 
The design of the ArdentSleep includes rubber holders on edges to prevent it from falling off while you sleep. 
We also recommend this weighted blanket for its easy-to-clean, easy to maintain features. You can simply prop this into the washing machine to clean.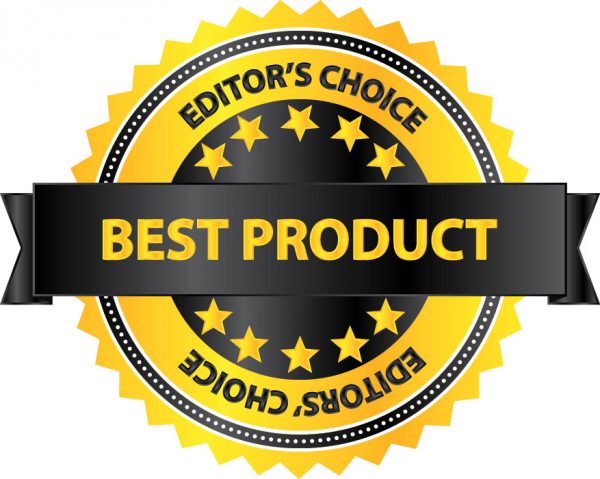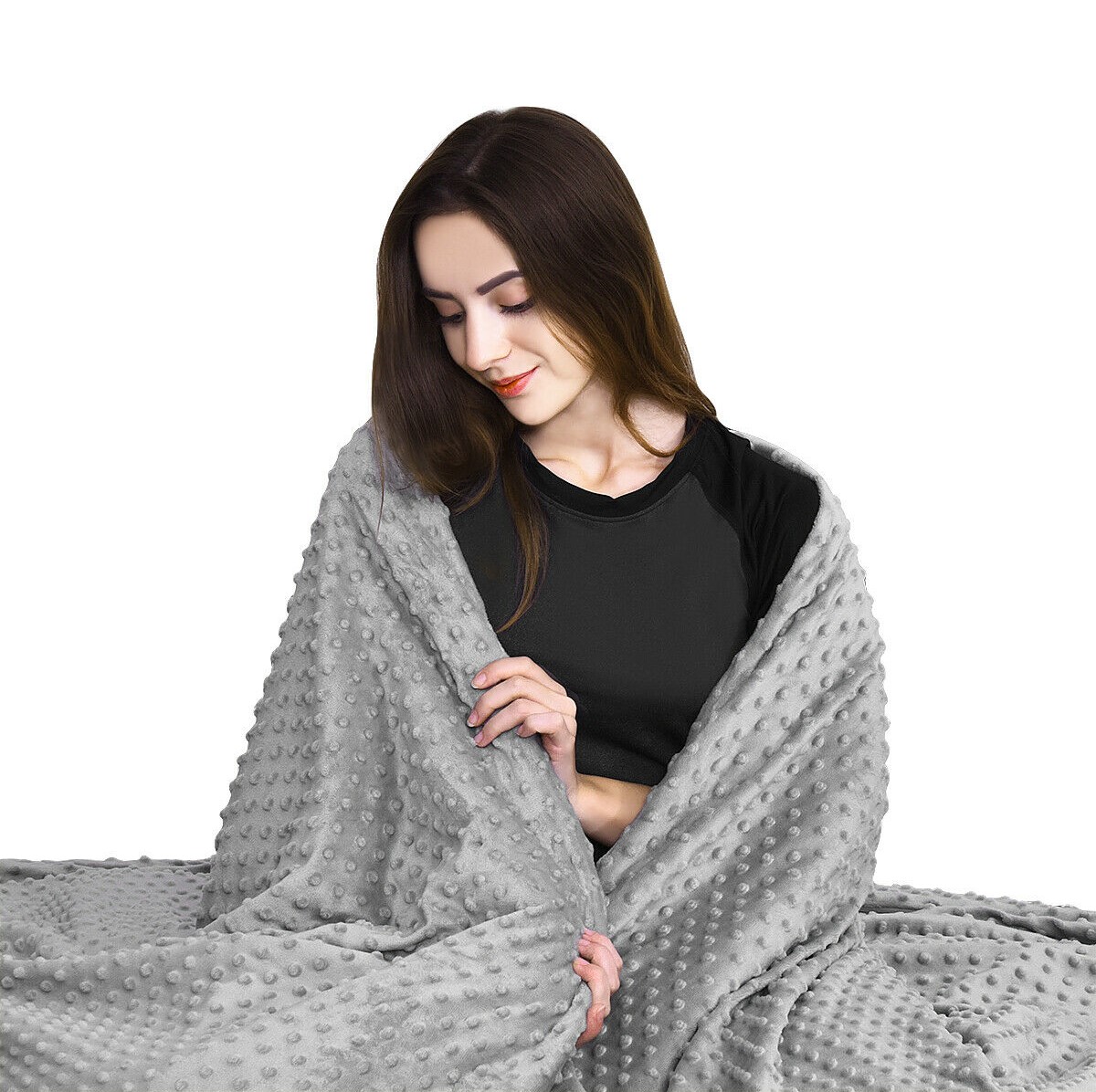 Are you looking for a weighted blanket that works for both adults and kids? We recommend the FluffSoothe. 
Unlike regular weighted blankets, the FluffSoothe offers just enough weighted pressure to add a calming hug sensation to both adults and kids. The FluffSoothe weighs 3-lbs – perfect for kids who need a sense of safety, or adults who prefer to calm their nerves before sleeping. 
The blanket is made of soft, mink fabric known for its soothing benefits to the skin. The weighted blanket is ultra soft and can be trusted when it comes to helping the body relax for sleep. 
The creators of the FluffSoothe also throws in sensory buttons which are known to promote melatonin production. Both the inner and outer areas of the FluffSoothe come with these sensory buttons so you that relaxing sensation can be yours all over. 
We are impressed at how this blanket can provide the best comfort during colder temperatures without getting too hot. It gives just the right kind of warmth. 
You also won't have to deal with sleep interruptions from blankets that fall off while you're sleeping – the bands of the FluffSoothe can help you with that. 
Lightweight, great fabric, and easy to maintain (yes, washing machines can handle this weighted blanket) you can say having the FluffSoothe is a must.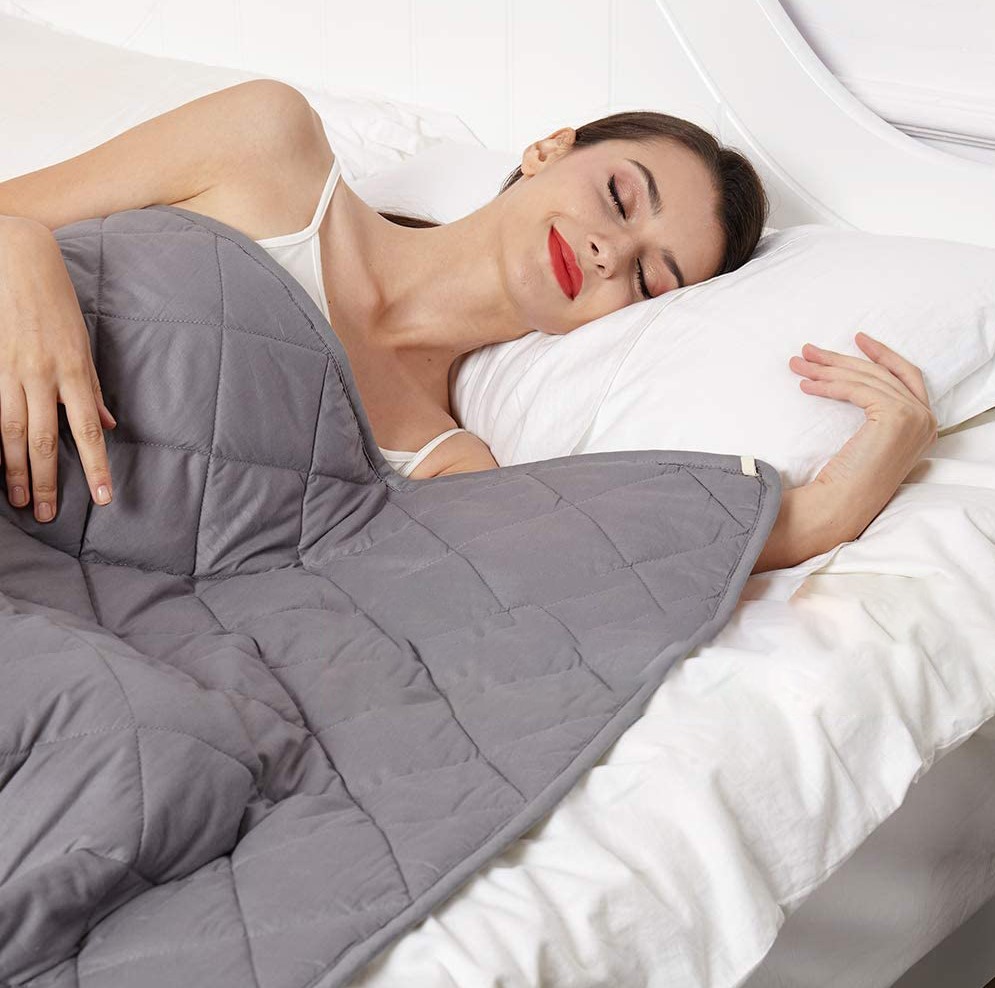 The brand that offers several varieties of weighted blanket to help you find the pick that will let you achieve the best sleep. 
The DreamWrap is a weighted blanket with an impeccable, well thought-of design. This weighted blanket comes with 5, 10, 12, 15-lbs varieties. Whatever your size, you can find a pick that's best for you. 
The weighted blanket comes with a design that features 3.5 inches of square grids. This design accommodates enough fillers that make the blanket distribute weighted pressure adequately. The grids also come with improved stitching to prevent beads from getting scattered, or from leaking. You won't feel like all the beads just go in one place. 
The DreamWrap uses diamond beads as fillers. These fillers offers the right amount of weight and pressure to make you feel safe and secured without making you feel uncomfortable. 
Six bands are attached to different areas of the blanket to keep it in place. No need to worry about blankets falling off the bed while you're sleeping. 
Maintenance-wise, the DreamWrap is a dream. For home care, simply machine wash low and hang dry. Machine-wash processes won't lessen the quality fo this weighted blanket. 
Getting the best sleep quality can improve a ton of aspects in our life. If you're not getting the best rest from your nightly sleep, it's time to invest in a weighted blanket that can make you feel more rested and rejuvenated. You can do more when your sleep is of the highest quality. Claim back sleep with our recommended weighted blankets above!