The 3 Best Digital Probe Meat Thermometers of 2022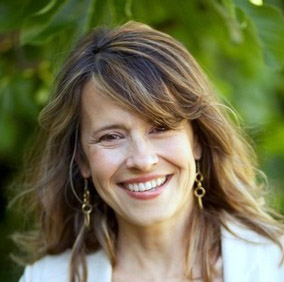 Kelly Brook, Contributor
Updated: May 5th, 2022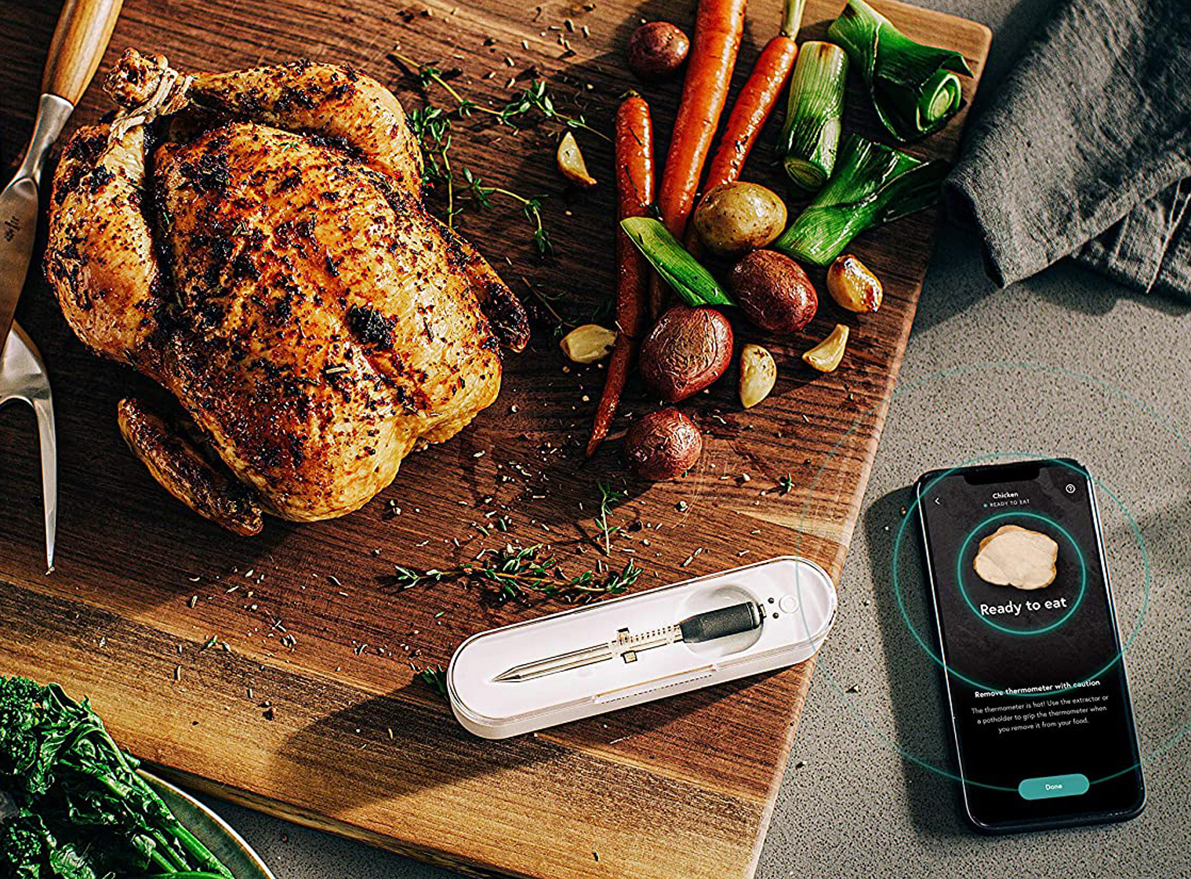 That beautiful sear or golden brown exterior can be deceiving. There are a lot of factors to consider to make sure meat is perfectly cooked down to the center—the thickness, how defrosted, how hot the pot, grill, or oven is, among others.  
The ultimate cheat sheet to perfectly cooked meat at home is a reliable digital probe meat thermometer. It takes the guesswork out of cooking meat and makes sure you get your desired doneness every time. There's no need to finger test or cut through the meat to check. 
Digital probe thermometers are more beneficial than instant-read thermometers because you can keep the probe on the meat the entire time to make sure it consistently cooks at the right temperature. It's ideal for slow-cooked recipes, cooking turkey or thick pieces of meat in the oven, deep-frying, and even making candy. 
The thermometers featured on our list are all made with 100% food-grade materials to accurately read and monitor the cooking temperature without affecting the taste and quality of the meat. 
Take a look at our picks!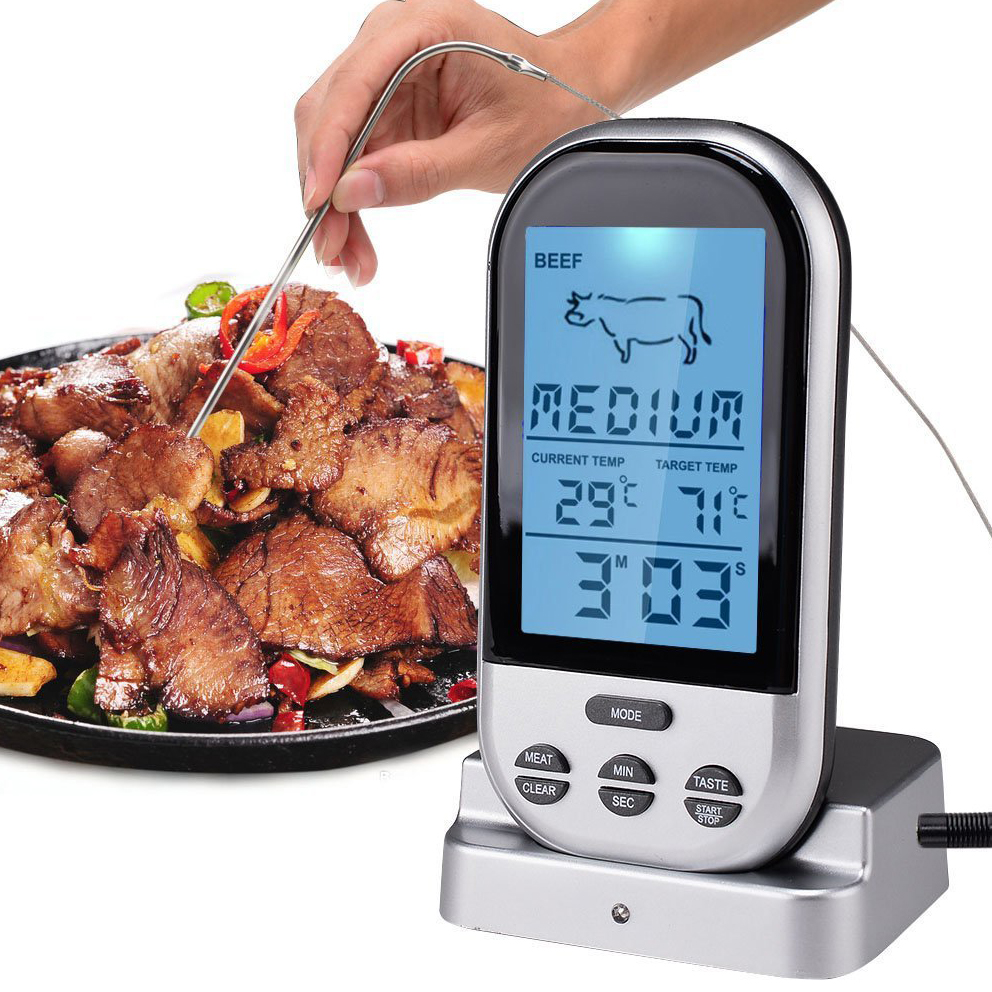 A turkey takes a long time to thaw—and even then, it's hard to tell if the center has defrosted enough. The best meat thermometer and the most reliable companion in the kitchen, especially for thanksgiving, will have to be the AccuTerm8 because it has a long stainless steel probe that measures 230mm. 
It can go deep into that massive turkey to read the cooking temperature and make sure every bite down to the bone is perfectly cooked and tender. You can expect faster and more accurate temperature readings with a wired probe compared to wireless ones. Don't worry. Its 1-meter wire is heat-resistant, securely wrapped, and safe to use when cooking. 
You can leave your kitchen and catch up with the family while keeping a close eye on your food from up to 60m away. It comes with a wireless transmitter that includes a timer and pre-programmed temperature settings.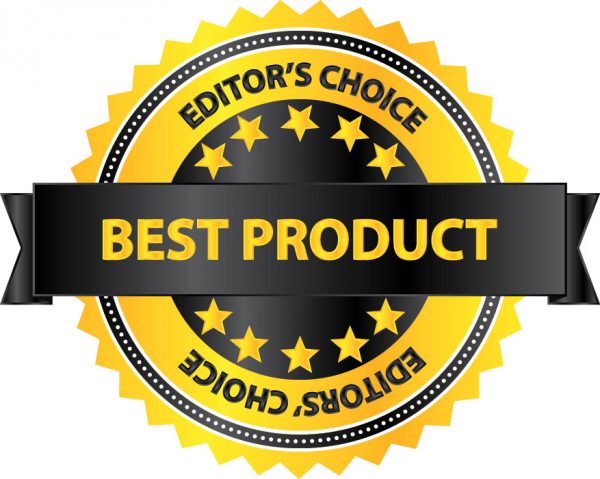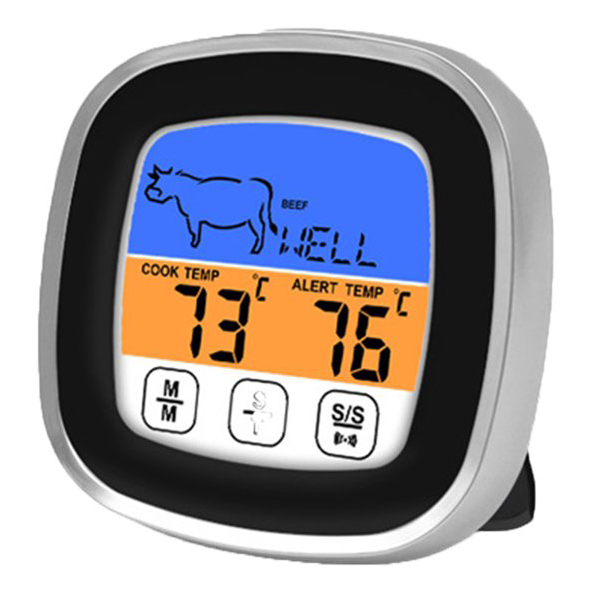 The Meat Master comes close at #2. It also offers fast and accurate readings with convenient pre-programmed temperature settings but has a shorter probe of 160mm long. The great thing about this is it can measure up to 300℃ or 572℉—that's higher than the AccuTherm8. 
Its probe is made from food-grade 304 stainless steel, making it safe, waterproof, and high-temperature resistant. It comes with a compact transmitter that allows you to choose from 5 taste settings for 8 meat selections, as well as set the cooking timer. 
So if you love firing up the grill regularly and enjoying some good BBQ, the Meat Master will be the perfect little helper.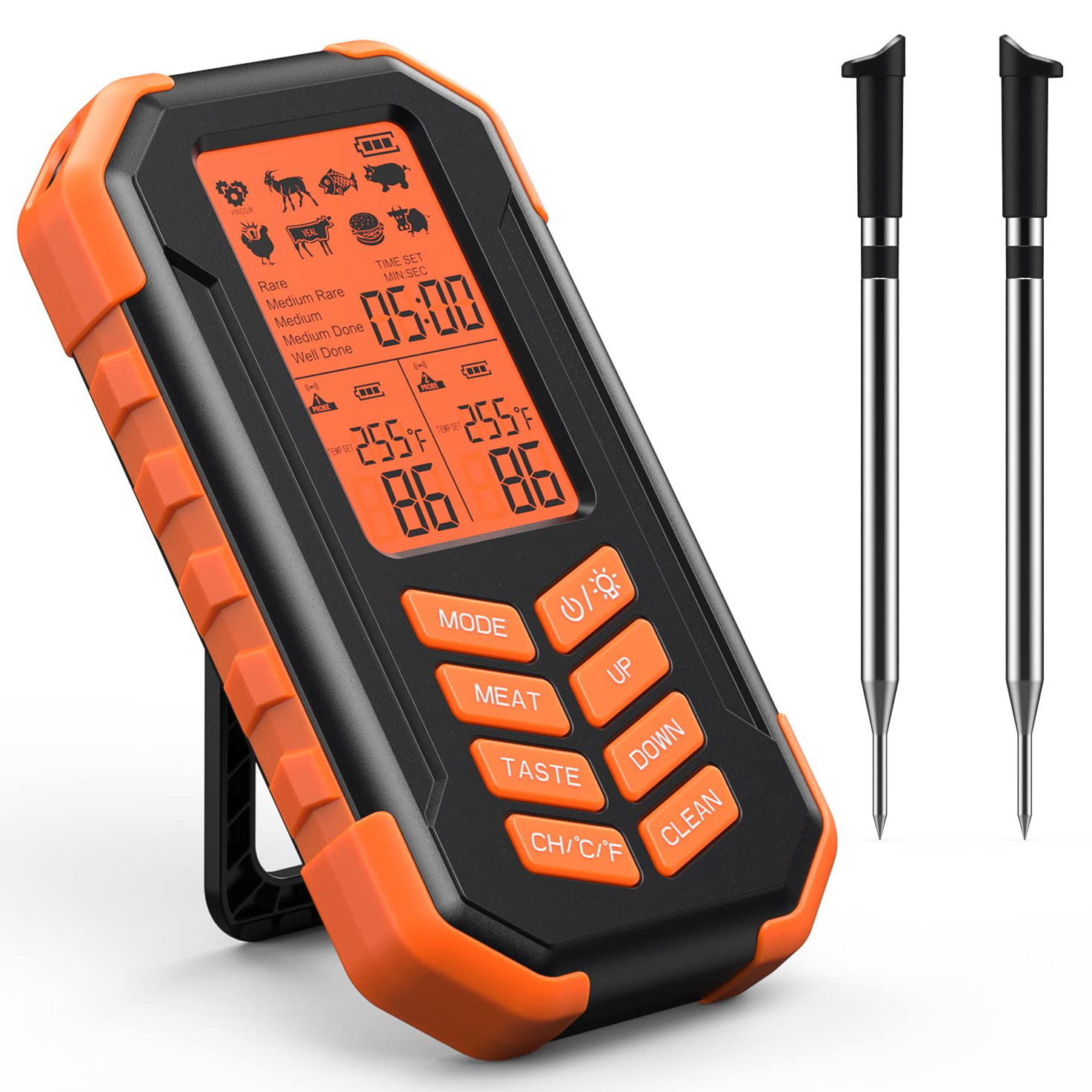 Are you a pro multi-tasker in the kitchen? This multi-tasking meat thermometer with dual sensors is for you! It comes with 2 wireless 126mm long food-grade steel probes that automatically connect to the transmitter and monitor the temperature of the meat and its surroundings. 
Its stable 2.4G signal connection can seamlessly monitor the cooking temperature of two dishes at a time. You can anticipate an accuracy of ±1% and enjoy a wide wireless range of 200ft. It's safe to use in a high-temperature oven or grill because of its wide ambient range that stretches to 300℃ or 572℉.
Like the others on our list, it has a timer, alarm, and preset temperatures for five different tastes or doneness and eight types of meat. It also has a presetting for bread, and you can use it for cooking soup because its probe is waterproof.  That's a full, delicious meal! 
The taste and quality of your food must never be compromised. We guarantee that the items on our list are of excellent food-grade standards with reasonable prices. From a 230mm probe to a wireless 2-probe thermometer, you can choose the one that fits your needs and expect a boost in confidence the next time you step into the kitchen.