4 Best Bird Feeders to Buy for 2023 to Create a Safe, Squirrel-Proof, and Hygienic Bird Hotspot in Your Garden or Coop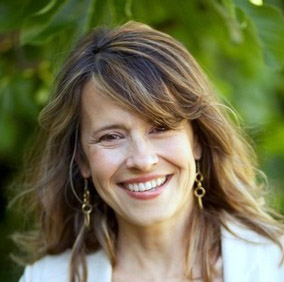 Kelly Brook
Updated: Sep 22nd, 2023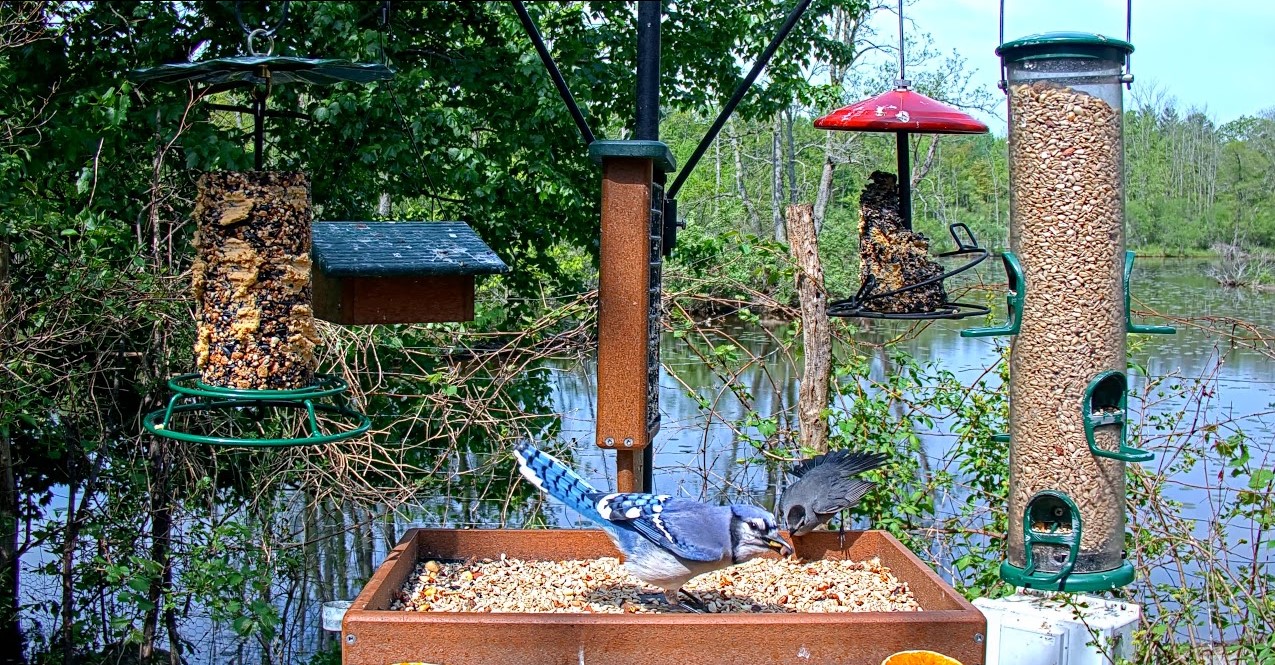 No doubt that wild birds add a new level of dynamics to your garden. Their beautiful wings and relaxing chirping sound make all mornings a treat for the soul. So if you're looking for ways to lure birds to visit, you need the right bird feeders to create a nice hotspot for these creatures to hang around.
Bird feeders come in many shapes and sizes. Some design even caters to a specific type of bird, such as thistle feeders or suit feeders. That said, it can be pretty challenging to know which one fits your needs.
We have partnered with bird watchers and experts to determine the best feeders for your at-home setting. We've considered most of the internet's common questions about bird feeders to give you a more narrowed rundown of the best products to buy.
Without further ado, here are our Top 4 Best Bird Feeders for 2023. Read along.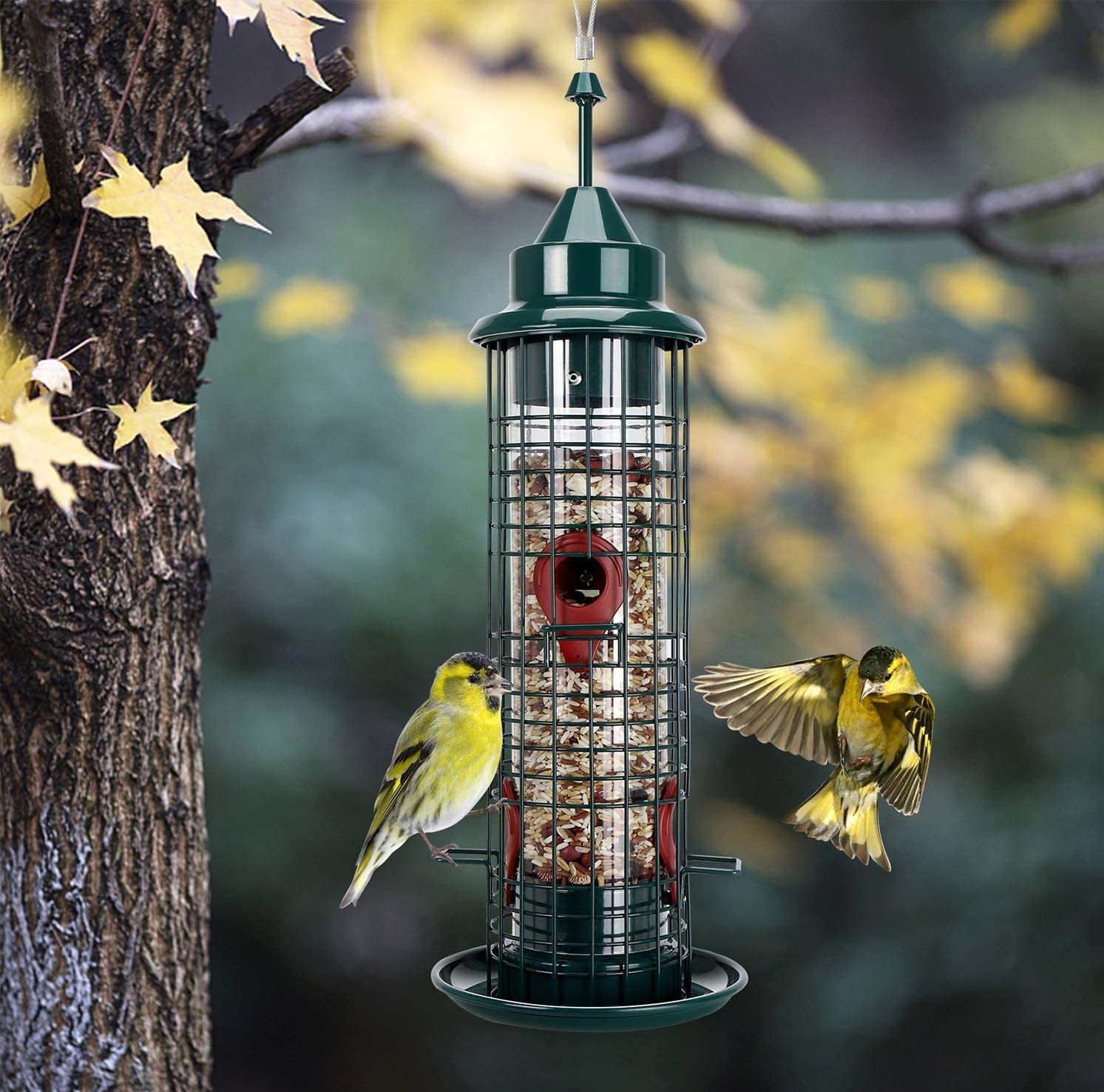 The Flarf-Feeders is our #1 pick because it has everything you expect from a quality bird feeder. It's sleek, durable, squirrel-proof, and, most importantly, a thoughtful design that lets you conveniently place it in your outdoor landscape or inside your bird coop. The feeder comes in a perfect 18.5-inch clearance to enable enough space for birds to hang around and a 1.3-pound seed capacity that can last for several days.
This tube-style feeder is designed with a 4-port feeding station and an iron net that functions as a barrier against squirrels and other poachers. So if you're concerned about your feeder getting too crowded, the Flarf-Feeders can handle 5 to 6 birds simultaneously.
Overall, the Flarf-Feeder is designed pretty well to ensure being a bird enthusiast is less stressful. You can use it for different bird seeds to accommodate various species of birds in your area. Plus, it's a hanging feeder with UV and weather resistance, so you'll know it's up to every bird's liking.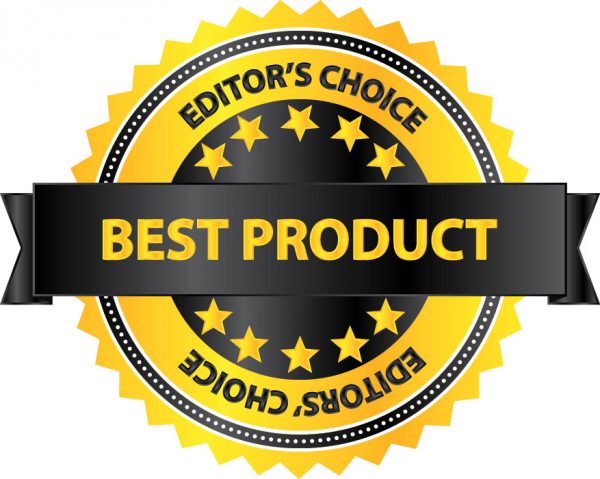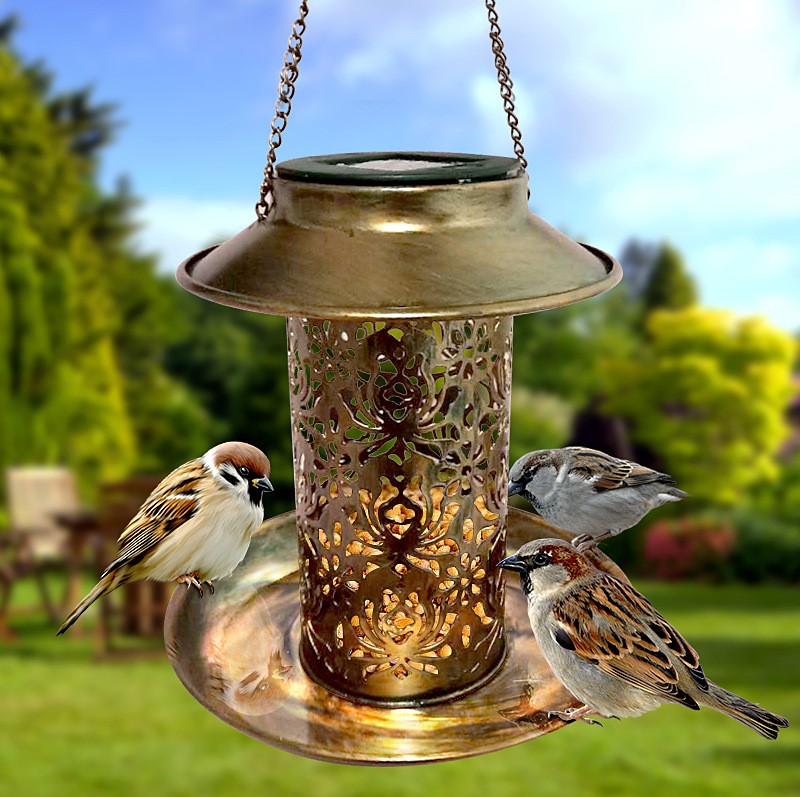 With a beautiful natural pattern, stainless steel build, and a solar-powered lamp, you'll never go wrong if you choose the Bixolar Bird Feeder for your garden or coop. This one fits whatever you wish to make out of your bird feeder. You can either use the Bixolar to bump up your garden's aesthetics or hang it inside your bird coop to work as a feeder and a night light.
Even better, this bird feeder is specifically designed to create the perfect shelter for birds. It features a rainwater outflow to repel water to ensure the seeds inside stay fresh and the birds dry. And when it's dark, the solar-powered lamp makes the best insulation to keep them warm during cold nights. Further, with 2 lbs of bird seed capacity, it's enough to sustain a number of birds for several days with minimal effort.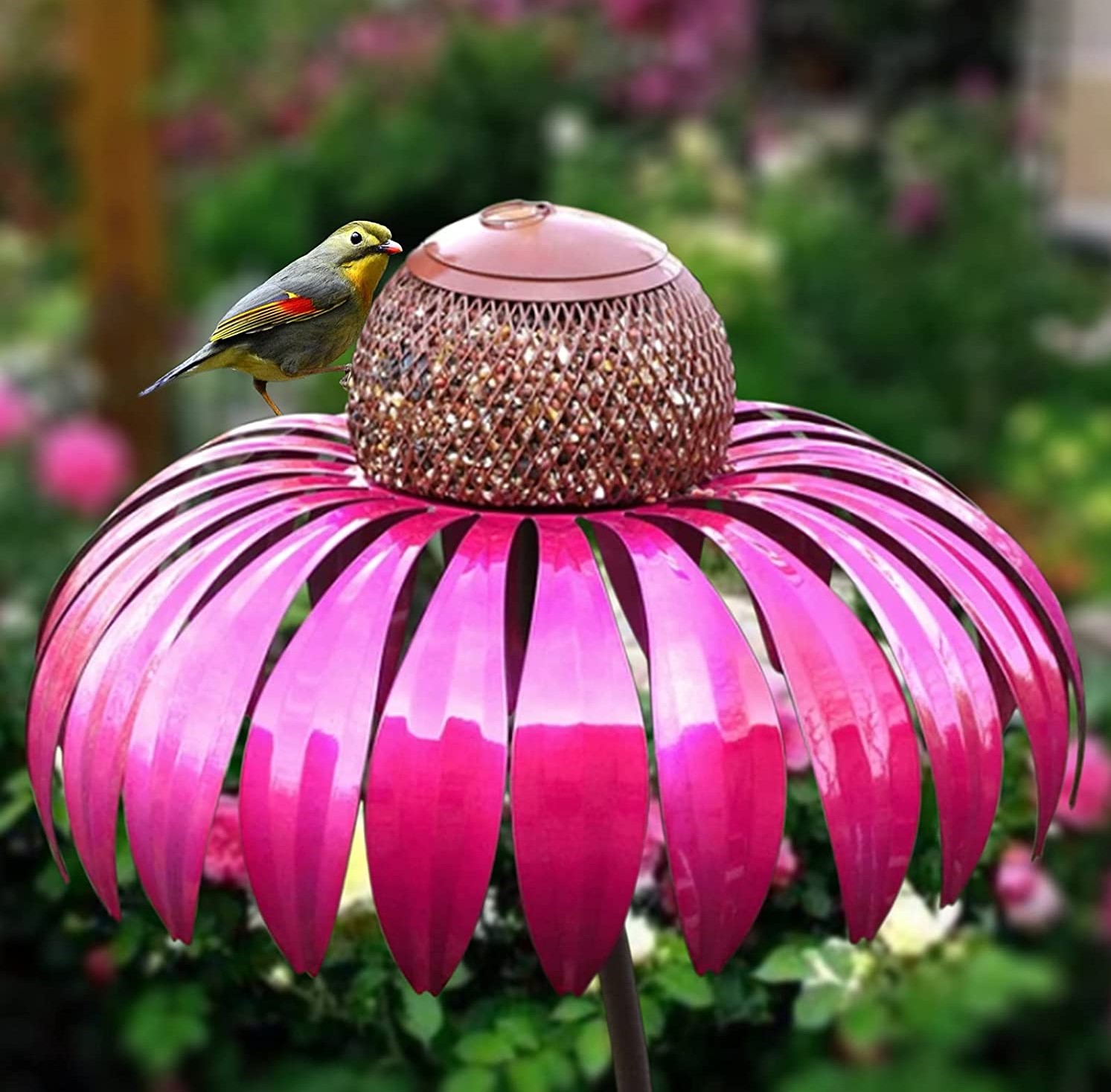 If you're tired of your old bird feeder and looking for new designs to spice up your garden's aesthetics, look no further than the Oozerns Bird Feeder. This outdoor bird feeder features a pink coneflower design to make you and wild birds fall in love. Aside from its nice and refreshing nature look, the Oozerns is probably the most bird-friendly feeder. This one comes with zero harmful substances that could cause health hazards to birds. Further, it's handcrafted to ensure an all-weather food source for all types of birds.
Since the Oozerns Bird Feeder is placed directly on the ground, it features an anti-rat and anti-squirrel design to maintain the freshness of the bird seeds and prevent poaching. And when it's time to refill, all it takes is a simple detaching of the top cover, and you're good to go.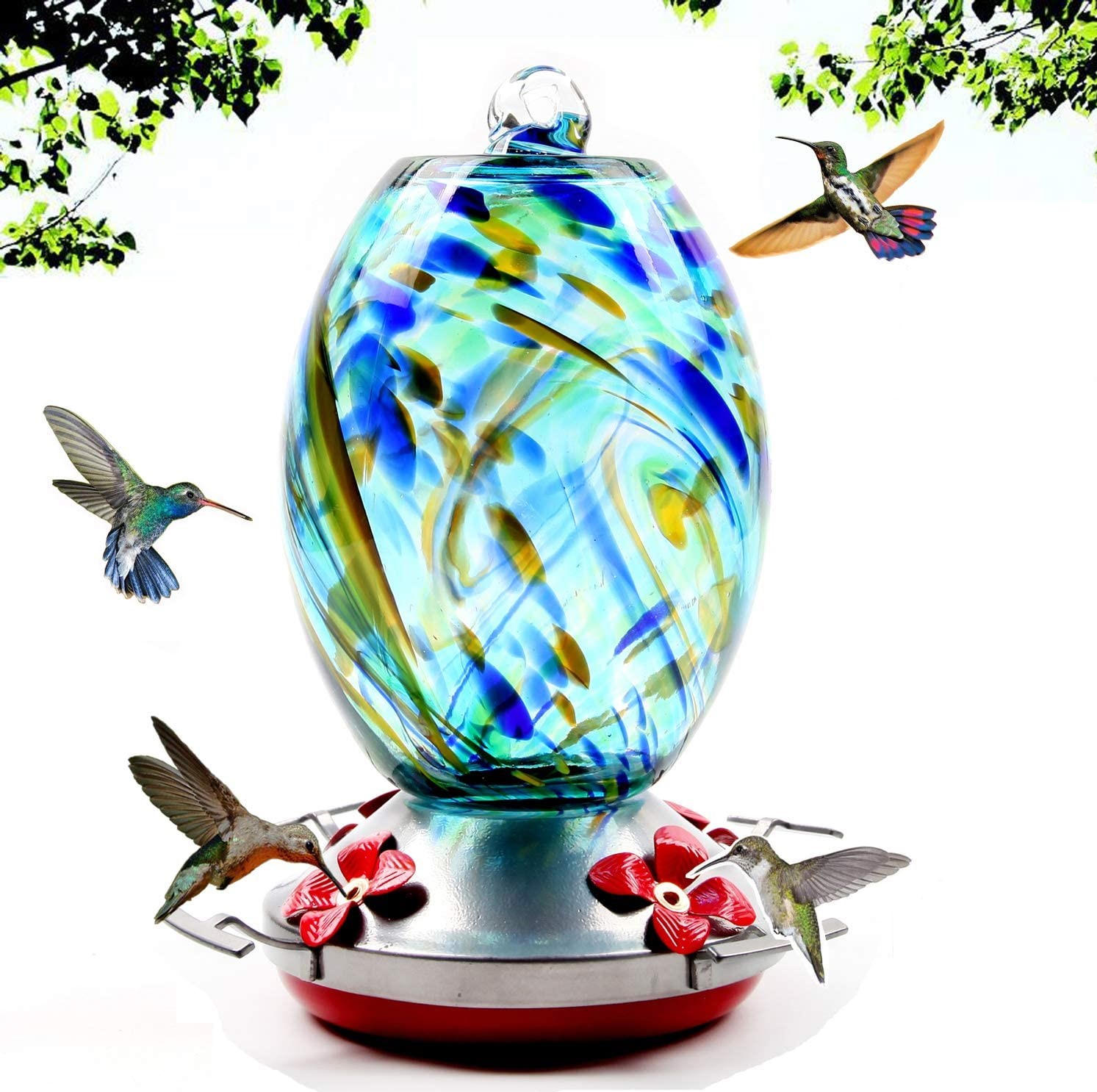 Hummingbirds are your most common visitors, especially during spring or summer. So, it just fits to recommend the perfect feeder to use once these whimsical creatures give you a visit for some treats. The Improve Project Bird Feeder gives you an attractive hotspot for hummingbirds to lounge. It's handmade and comes with all-around care that hummingbirds will surely appreciate.
First, it's leak-proof. Therefore, no sweet nectar will come to waste. Next, it's designed to prevent rusting to ensure it lasts for long and guarantees the safety of all hummingbirds. And lastly, it's fun and easy to use. But, my favorite thing about this feeder is the splash of colors that seem to be really effective in catching hummingbirds' eyes. Altogether, this all-in-one hummingbird feeder is worth every penny. It's beautiful, handmade, and caters to everything you need to create a safe and comfortable space for these vertebrates to hang around.
An excellent, high-quality bird feeder can make your birdwatching experience at home worth it. Not only can they make everything way more manageable, but they also create a safe and comfortable space for wild birds to hang out in your backyard. So if you're new to the "at-home birdwatching experience," the products we highlighted today are most expert's go-to feeders. They are the easiest to clean, refill, maintain, and cater to a wide range of bird species and seeds. It's 100% worth every penny spent.