The 3 Best Home-Friendly Sous Vide Machines (Immersion Circulators) to Buy Right Now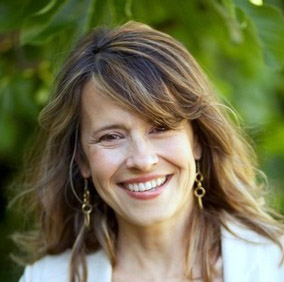 Kelly Brook
Updated: Sep 22nd, 2023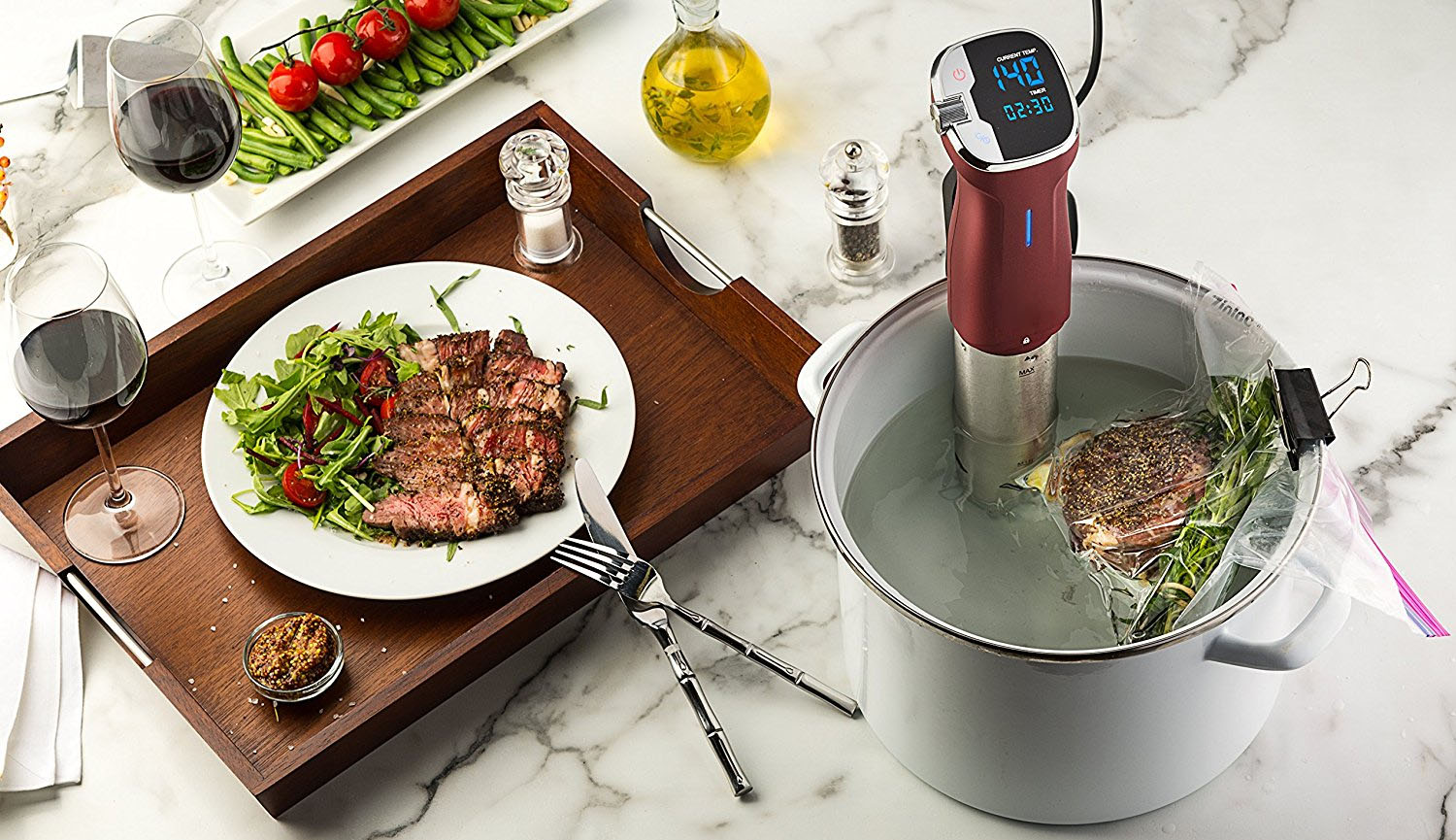 As soon as you dig in, the juices start flowing, your taste buds start tingling, and every bite of the tender meat makes your heart sing. You not only enjoy a hearty meal but a healthy one too because of all the good nutrients kept during the cooking process. That's the beauty of sous-vide cooked food.
Sous vide, which means "under vacuum" in French, is a long-used culinary technique by chefs worldwide. The best sous vide machines used to only be found in restaurant kitchens or in the homes of professional chefs. Lucky for the modern-day home cooks, it's now been made accessible and affordable.
There is a wide selection of home-friendly sous vide machines out there, but we're here to narrow down your search to these three home-friendly devices. Read on for our top picks that meet our sous vide cooking needs, such as accuracy, efficiency, convenience, and value for money.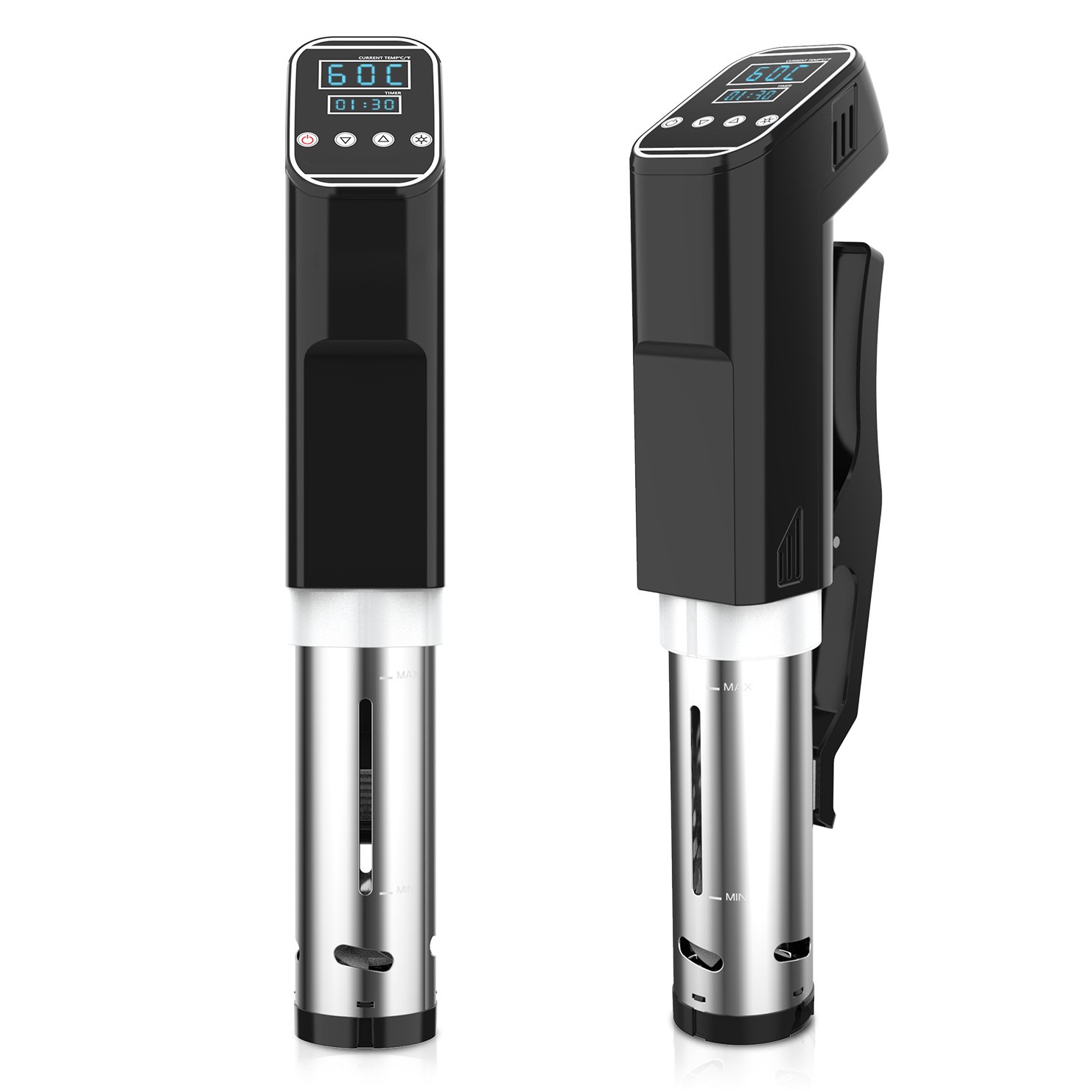 The VacuCook Ace Thermal Immersion Circulator is another great option for getting sous vide cooking done right at home, no matter your experience. This is the longest among the 3 devices in this list with a length of 16" and was more capable of fitting thicker pots because adjustable clamp's silhouette.
It's the perfect choice if you've got a large family to feed or love to host lunches and dinners in your home. The stainless steel tube includes a measurement guide to keep your water level at a safe and appropriate height, as well as an autonomous water circulation system to reliably maintain the temperature all throughout.
You can also count on the VacuCook Ace to precisely time the sous vide cooking process as to not over or undercook your food. Expect a uniform texture, undamaged dietary fiber, and maintained natural nutrients that make healthy eating all the more enjoyable!
Just clip the device to any pot, set up your desired cooking temperature and time with just a few clicks, and relax. Check-in on your food any time and view accurate readings on the built-in LED control panel. There's also no need for a Bluetooth connection or an app.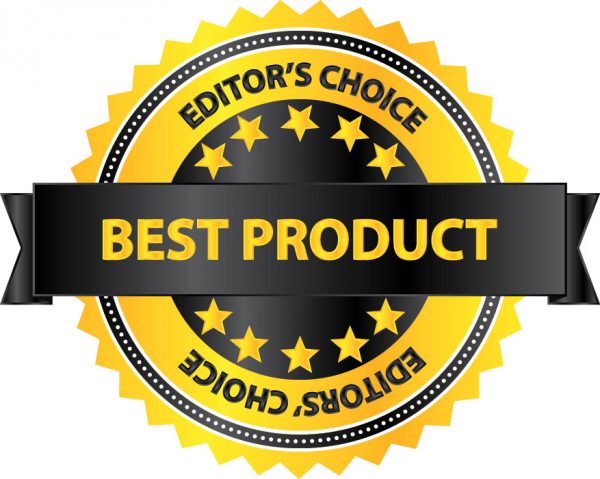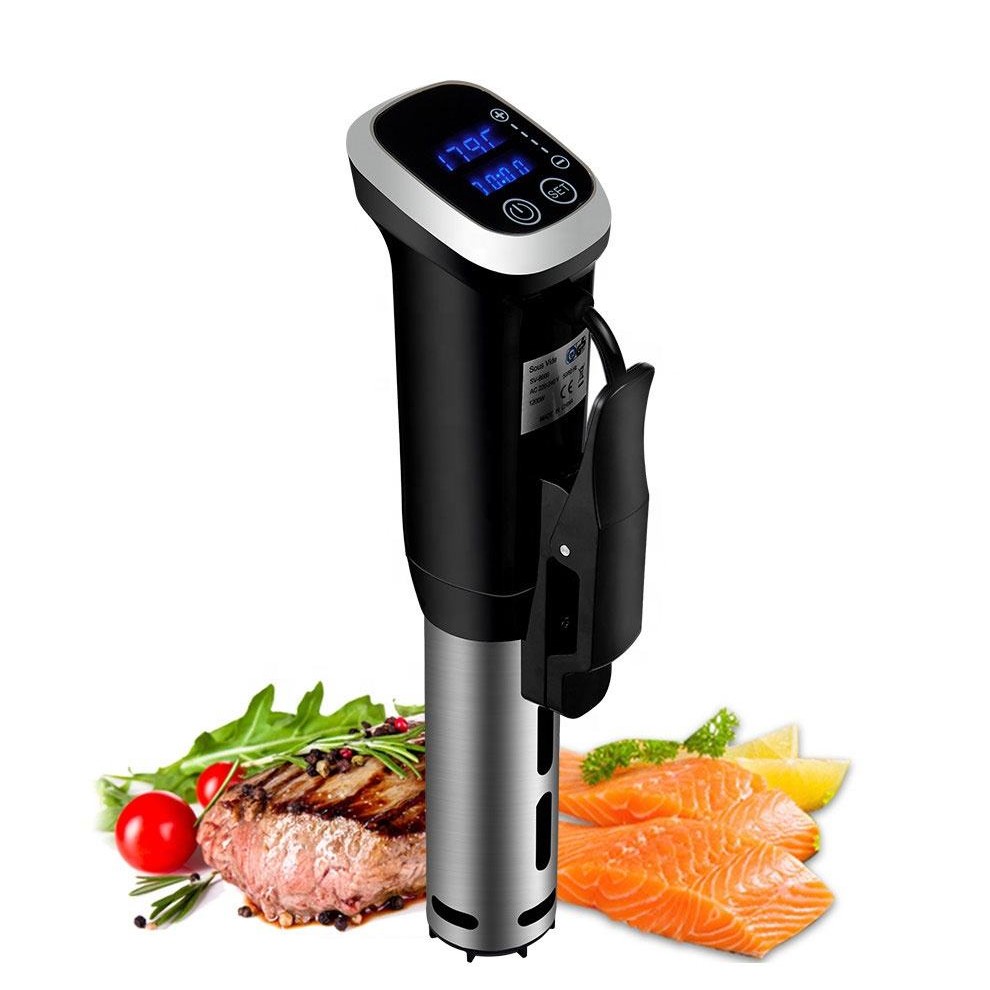 Another favorite of ours and the most slender of them all is the Slow Master Sous Vide Precision Cooker. With a width of only 3.1 inches and a quiet 360​° water circulation system, this helps you nail the sous vide technique at home like a skilled Masterchef every time.
This device has a slightly higher heating power of 1200 watts to warm water at an even faster speed. Similarly, you can directly read and set accurate temperature readings and cooking time on the built-in control panel. No need for WIFI or a Bluetooth connection.
The Slow Master also includes an advanced pump system to regulate the temperature and circulate the water throughout the sous vide cooking process. Its removable stainless steel skirt with long-lasting temperature sensors and timers has an IPX7 waterproof performance level for ease and your safety.
With all the steam from the boiling water, it's inevitable for the display to fog. The bright LED screen helps you read the current cooking temperature and time with a clear vision despite the damp air condition.
Designed for both beginners and pro chefs, the HomeGourmet Low Noise Sous Vide Immersion Circulator is a kitchen tool every food lover needs and will surely enjoy. With a powerful heating element of 1100 watts, this device can rapidly warm a large volume, as well as simultaneously circulate the water and regulate its temperature as your food cooks.
If you're a stay-at-home parent with an infant, this HomeGourmet machine is perfect for you. You can easily cook and check up on your food without waking up your sleeping baby because it includes a brushless DC motor with low noise of 50db to provide a quieter and more peaceful cooking experience.
The simple control interface displays accurate measurements on a bright LCD screen and allows you to set your desired cooking temperature and time. What makes this device unique is the built-in back fan hot hole so you don't need to worry about overheating or overusing this device.
Another standout feature is the quick-check lighting system. Just below the control panel, you'll either see a red, green, or blue light. Red is for when the device is heating the water, green for when it reaches the set temperature, and blue for the desired time.
Sous vide cooking is a technique regularly used in restaurants by professional chefs but not known by many home cooks. That's why we created a list to help you take the best sous video machines home and prepare exquisitely prepared gourmet meals with perfectly cooked meat.
Each sous vide machine has its own standout features, so it all boils down up to your personal cooking needs. Rest assured all three devices reviewed in this list will help you effortlessly and successfully prepare hearty, sous-vide cooked meals at home.