The Best Cutlery and Flatware Sets That Will Bring a Touch of Luxury to Your Dining Tables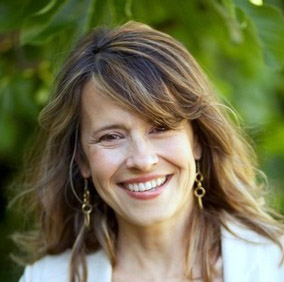 Kelly Brook, Contributor
Updated: Sep 136th, 2022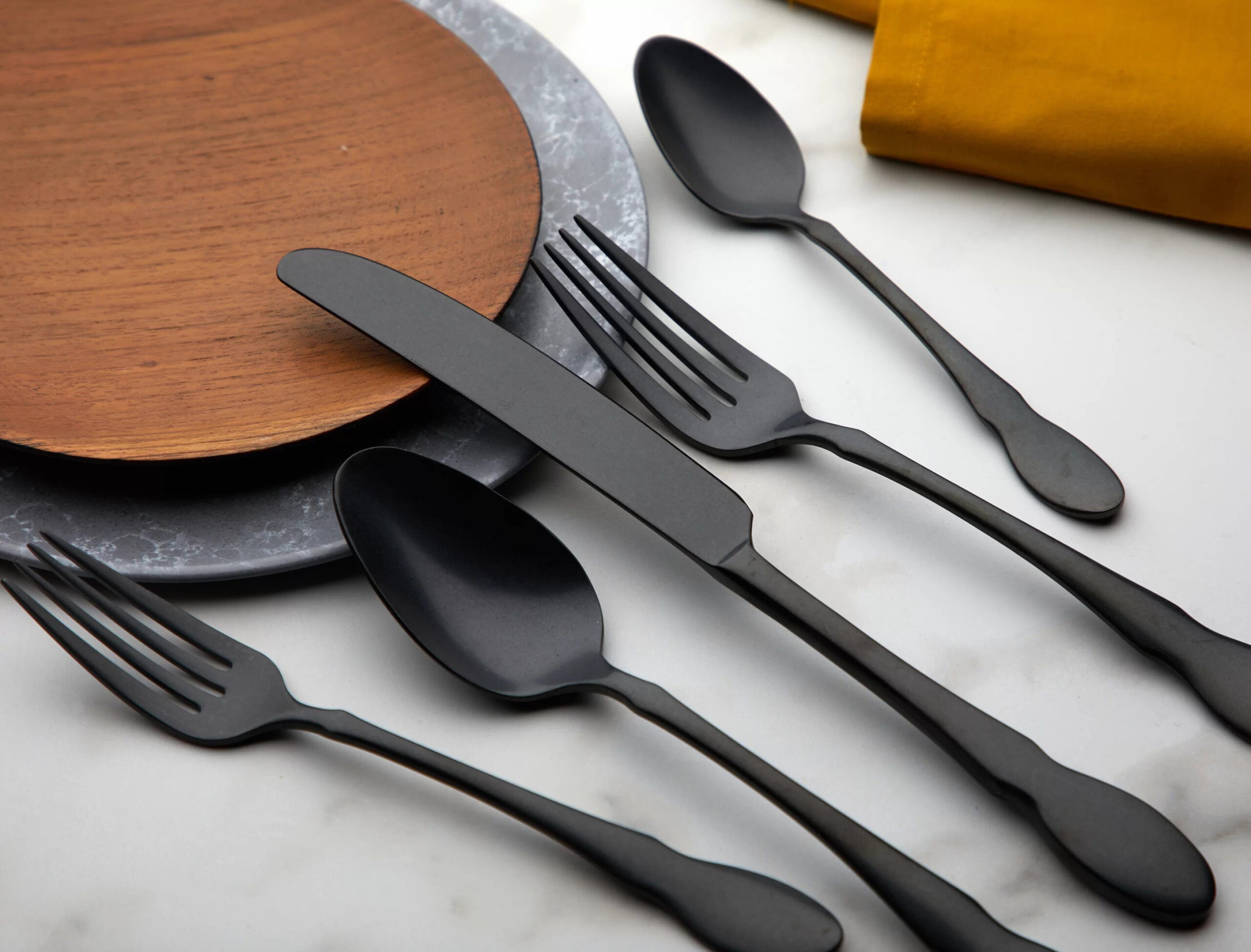 Choosing a flatware set that wil bring your dining table arrangement to life can be a little tricky with all the things you want to consider. Apart from finding the one that fits your aesthetic taste, you should also take note of the material used, and the number of utensils in that set. 
A beautiful flatware set can upgrade the looks of your dining table presentation in the most flattering of ways, so it's important to choose the most ideal flatware set that works best for your taste, preference, and purpose. 
In this review, we are going to help you find the best cutlery and flatware sets that will fit your dining table requirements and will elevate your entire dining experience. 
Read on to find out more.
How We Decided
To make sure we pick out the best flatware sets on the list, we made sure to invite dining aficionados to our review team. We also asked the help of designers to help us find flatware sets that are excellent in their aesthetic, function, and material. 
After several days of review, we found the best picks among the most popular flatware and cutlery sets on the market. 
Each set was chosen based on the following standards: 
The set should have aesthetic features

The set should come with reliable, rust-resistant stainless steel 

Our choice should have a complete set of utensils based on different requirements

The set should be versatile, and can be used on many occasions. 
Out of all the products we reviewed, these top four picks stood out.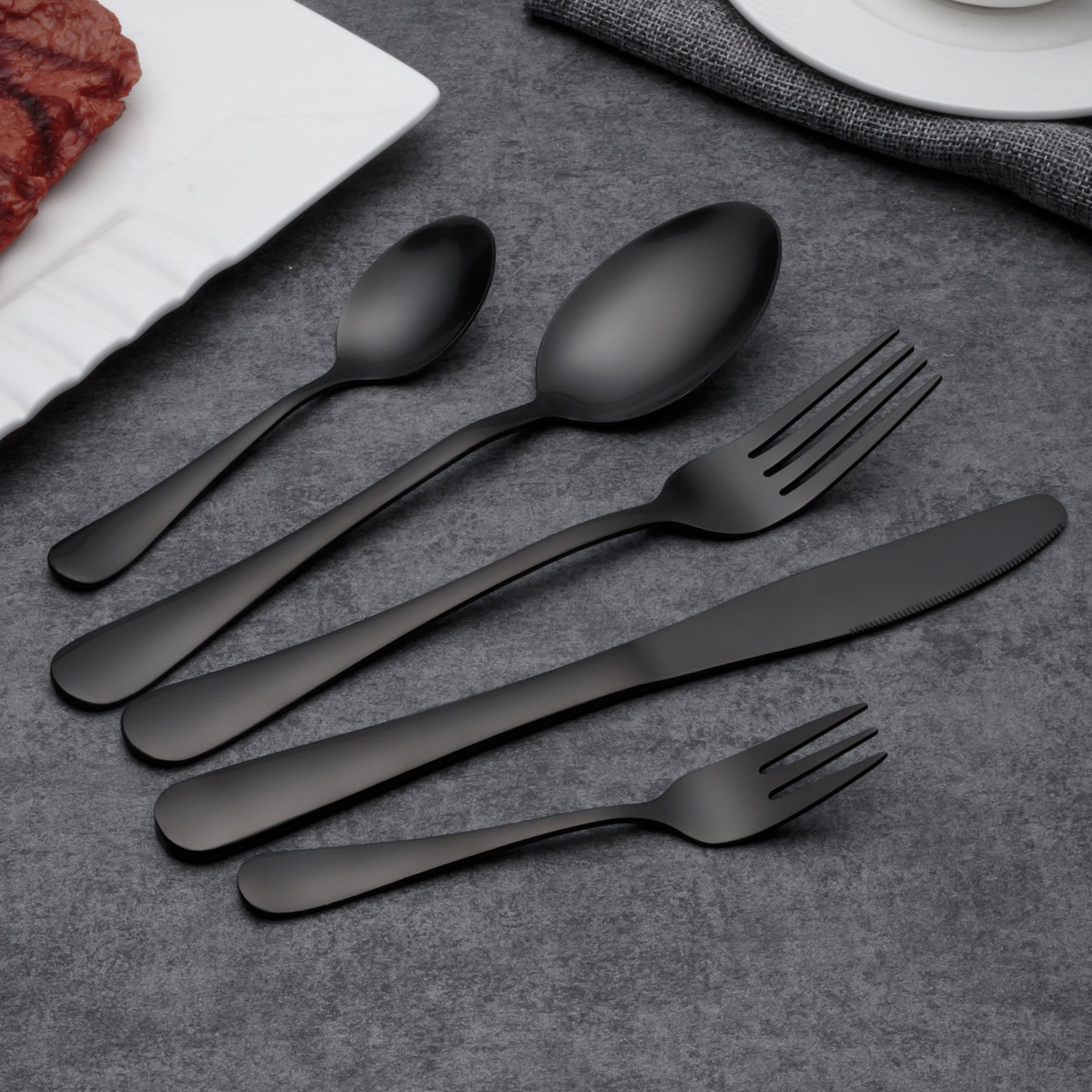 If you're drawn to all-black and matte flatware sets, our top recommendation to you is the LuxoSlice. 
The LuxoSlice comes in five gorgeous and all matte-black utensils, including a dinner fork, salad fork, knife, coffee spoon, and soup spoon. 
This flatware set is so versatile and elegant – you can use it for all your dining arrangement themes. If you're looking for a classy accent for your dining table arrangements, you can count on the LuxoSlice. 
We love that this set is made with rust-resistant stainless steel – you can be assured that you will be able to use this set without worrying about rust and cracks affecting their quality. 
The matte finish does not fade. It is recommended that you only use soft towel for drying up utensils to prevent watermarks and scratches. 
It's a perfect gift for you, your friends, and new homeowners you know.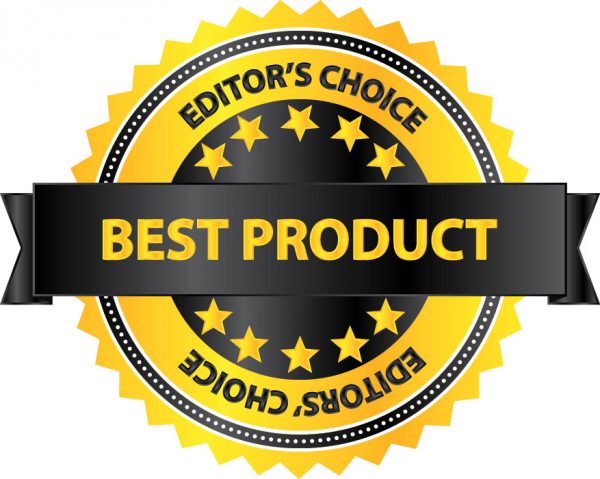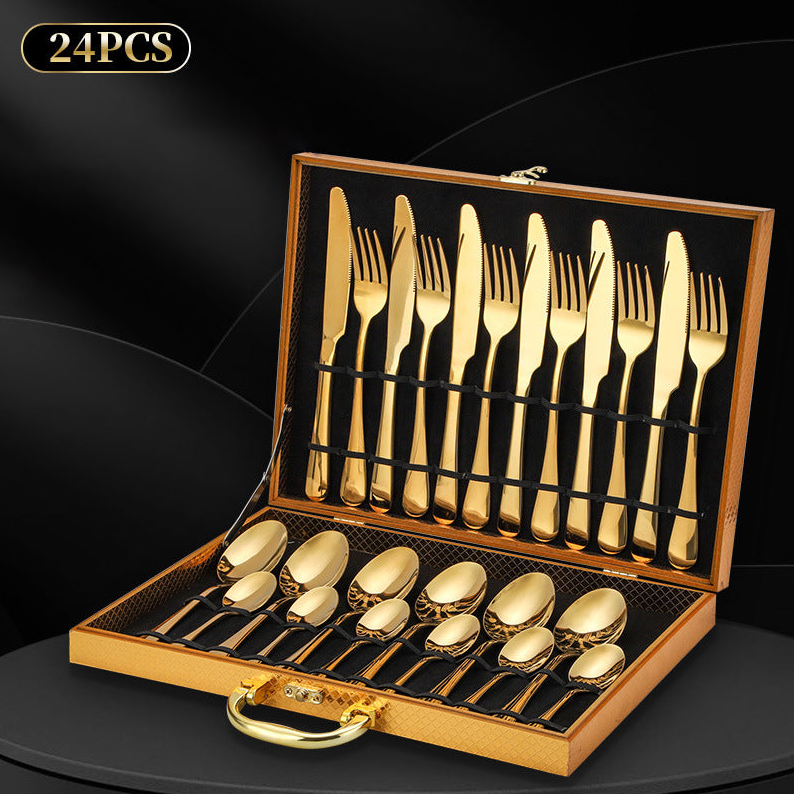 We're talking about gold, and we're talking about elegance! 
If you're looking for a flatware set that's bold and gold, we highly recommend the ShimmerTips. 
The ShimmerTips utensils come in a sleek, gold finish which can complement any dining arrangement. 
This flatware set includes twenty-four utensils including six knives, six spoons, six dinner forks, and six coffee spoons. 
Don't get intimidated by the ShimmerTips. We were assured that the gold finish is 100% safe. The stainless steel used for the SimmerTips is also food grade. 
The coating of the ShimmerTips is made of titanium which prevents scratching, cracking, and losing its luster over time. 
The stainless steel used for the ShimmerTips is also ultra durable and rust-resistant. 
If you're looking for both elegance and functionality, don't miss out on the ShimmerTips.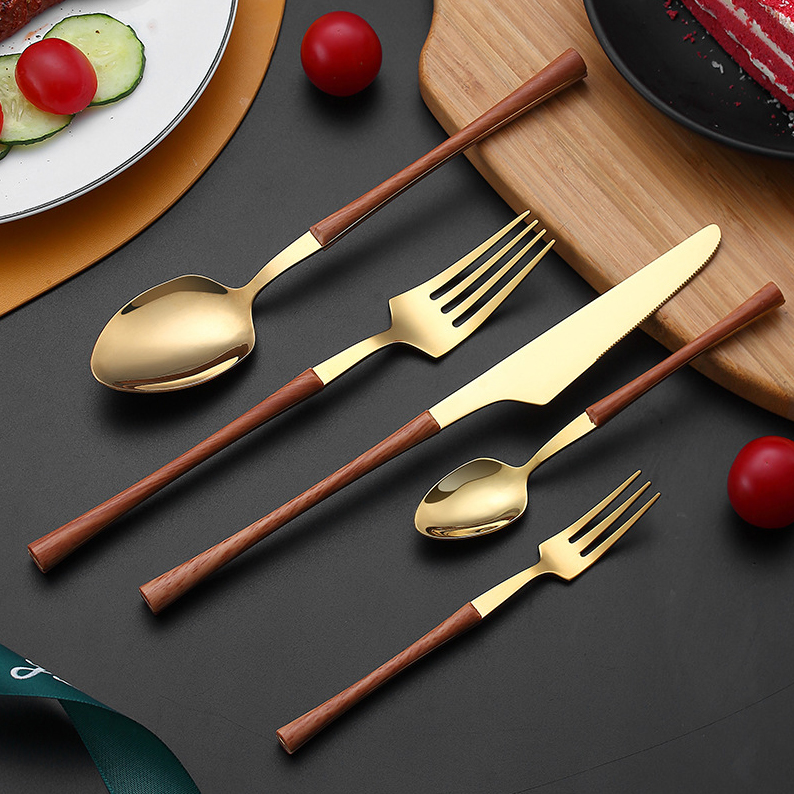 If you're drawn to more vintage takes, we recommend the VentoSleek. 
This unique flatware set includes 5 luxurious utensils that bear the vintage lux aesthetic. The utensils feature a wood-to-gold design which comes in handy if you're preparing for a more romantic dinner setting. 
Utensils that come with this set include a knife, a dinner spoon, a dessert spoon, a dinner fork, and a fruit fork. 
The VentoSleek is made from 100% stainless steel, and is non-toxic, and nickel-free. 
Both the bamboo details and the spoon's durability prove that you can use the VentoSleek for a long time. 
The metal is also rust-resistant, so you won't have to worry about rust eating your precious utensils again. 
If you want a unique, laid-back, but very aesthetically-pleasing flatware set, you should consider getting VentoSleek.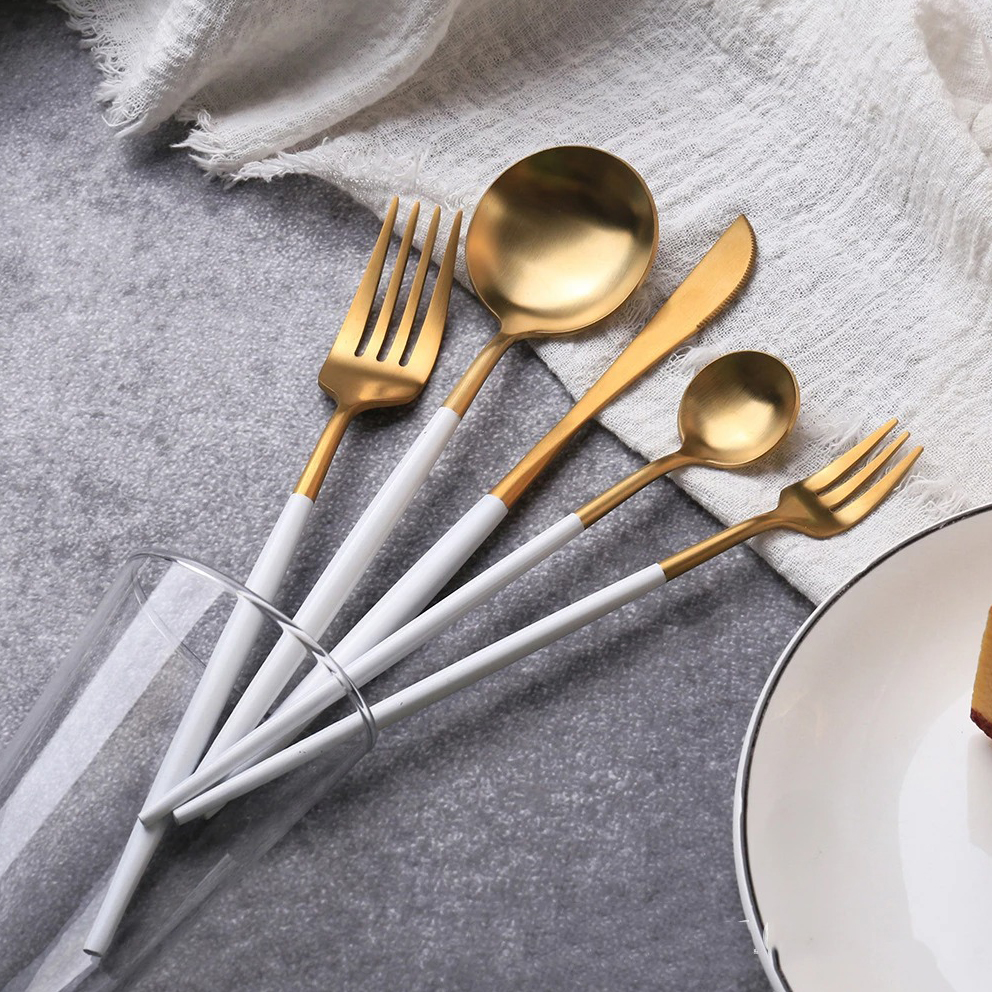 This product is for the people who love the white and gold aesthetc.
This beautiful flatware set isn't just for home use – it's so classy; you can use it in restaurants, and during special, formal occasions. 
The resin of the OuiBest complements the stainless steel gold hardware. The combination of these two colors create versatile, expensive-looking utensils you can pop off when visitors come over. 
The OuiBest come with 5 utensils including a dinner fork, a dinner knife, dinner spoon, teaspoon, and dessert fork. 
You don't need to worry about the OuiBest losing its sparkle. The utensils come with a scratch-resistant, rust-resistant titanium-coated surface that prevents scratches from happening. However, we do recommend you to use non-abrasive tools when cleaning the set. 
This flatware set is guaranteed long-lasting thanks to the stainless steel materials of the utensils. Even the color will endure the test of time. 
If you want modern-looking cutlery without compromising that classic, elegant style, we recommend the OuiBest! 
Having a marvelous flatware set can help you prepare your best dining table arrangements that will make a mark and leave dining table memories with you. 
When you buy any of the products we listed above, you can truly feel that you're going to make mealtimes amazing. 
If you're looking for a flatware set, check out our recommendations above